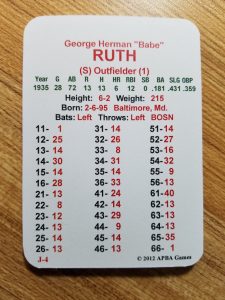 Season Totals

| I | Split | G | GS | PA | AB | R | H | 2B | 3B | HR | RBI | SB | BB | SO | BA | OBP | SLG | OPS | TB | GDP |
| --- | --- | --- | --- | --- | --- | --- | --- | --- | --- | --- | --- | --- | --- | --- | --- | --- | --- | --- | --- | --- |
| | 1935 Totals | 28 | 26 | 92 | 72 | 13 | 13 | 0 | 0 | 6 | 12 | 0 | 20 | 24 | .181 | .359 | .431 | .789 | 31 | 1 |
There's no player that conjures nostalgia and legend like Babe Ruth.  After being unceremoniously rejected by the New York Yankees, Ruth signed with the lowly Boston Braves for the 1935 season. At age forty, Ruth entered his twenty-second season. Unfortunately, he didn't have much success in Boston and played the last game of his career on May 30th and then announced his retirement in early June.
Fortunately, the Babe did have a couple of Ruthian moments in his final season.  First, he hit a home run on opening day against New York Giants' ace Carl Hubbell.  However, Ruth struggled over the next month. By May 24th, he was hitting just .153 with three homers and five RBI, three of which were on opening day. For his second Ruthian feat, the Babe hit half of his 1935 home runs on May 25th at Pittsburgh's Forbes Field. In that game, Ruth went four for four, drove in six runs, and hit home runs 712, 713, and 714 of his storied career.  If his life had been a movie script, Ruth would have retired after that game. However, he played in five more unproductive contests before announcing his playing days were over.
Somehow, it seems right that Ruth's final card has double ones. It'd be a major letdown if it hit like a mid-80s AL pitcher's card. If you replay the May 25, 1935 game, this card would have a legitimate chance to hit three homers and go four for four (Let me know what happens if you try).  It's a bit of a strange card. First, it has 14s in strange spots, like 15, 25, 31, and 51. Ruth did draw twenty walks in twenty-eight games, which earned him seven 14s, and since he only hit .181, they've got to go somewhere. (Actually, this card has eight 14s as Daniel Diehm pointed out. See the comments below. Recalculating the card, it should actually hit .200. APBA was kind to the Babe.) Second, this card has two 8s instead of the standard three. However, it makes sense why APBA did this. The card calculates to a .179 average without the extra 8, which is pretty darn accurate. If it had the standard three 8s, it'd hit for a .207 average.  One might think this card should qualify for Terrible Card Tuesday, but it's not all bad. It should produce a respectable .359 OBP, which is better than many cards you'll find in most 2017 MLB starting lineups.  More than anything, this card "looks" like what Babe Ruth did in 1935. The first time you see it, you know it's an all or nothing card that'll hit some home runs, draws some walks, and strikeout a bunch. That's the beautiful thing about APBA cards.
This is the worst card Ruth had once he became a regular, everyday outfielder. It's impressive that the second worst full season he ever had as a position player was 1934, when he hit .288 with 22 home runs and 84 RBI. Many players would call that their finest season. Ruth probably knew his skills were seriously diminished when he signed with the Braves. What Ruth really wanted was to manage a big league team.  Maybe he thought he'd have a better chance of taking over in Boston if he was on the roster.  It was not to be. In 1938, it looked like he might become the manager of the Brooklyn Dodgers, but it didn't work out either. Until his death from cancer in 1948, The Babe was disappointed he was never given the opportunity to manage. His granddaughter said the reason for his rejection wasn't because of his baseball competence (most people thought that was excellent), but because he would have brought African-American players onto his roster. Interesting. Imagine Satchel Paige on the 1938 Brooklyn Dodgers and those great Dodger teams of the 1940s. Baseball history would certainly be much different.