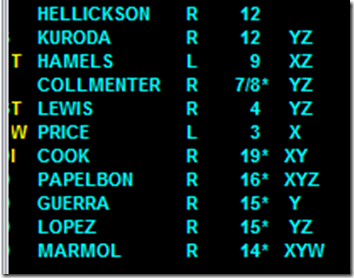 Hamels and Lewis are Tired, Price is Worn Out and Cook just has the Itch
We're a couple weeks into the BBW Boys of Summer APBA League and so far, I'm enjoying it more than I probably thought I would.  One of more interesting features I find intriguing is Advanced Injury Management or A.I.M.
What is A.I.M.?
According to the BBW help files, A.I.M.'s purpose is to:
The purpose of A.I.M. is to encourage realistic usage of pitchers and players, in the sense that pitchers do become fatigued as a result of performing their role in a game, and players who played less than a full season should not be allowed to increase their playing time if the goal is to recreate their actual performance from a given season.
For the most part, I have played dice and cards APBA up until now.  I've played a few BBW games here and there but never a season replay or in a league format.  The A.I.M. feature does add a lot to the game, I'll admit.  In the Illowa APBA League using the basic game, we certainly have regulations that limit overuse of players.  In simplified form, we limit batters to games and at-bats and pitchers to games, games started, and innings.  Also, we do enforce a starting pitching rotation.
But with there would be nothing to prevent me to say, use my A* reliever for four innings in four games straight (note: we don't as a general rule, do that.  We have our pride).  Or use my J-3 outfielder for 100 games straight and rest him the rest of the season.  BBW's implementation of A.I.M. does make it less inviting to do that.
Admittedly, A.I.M. is a complicated system that envelopes both pitchers and position players.  For pitchers, AIM uses a rating called a Readiness Rating which is the number of batters a pitcher is currently prepared to face before he becomes fatigued in a game.  For position players, the equivalent is the Play Rating to Date.  According to BBW, "When PRtd exceeds Play Rating, then the player becomes Tired".
The impetus for learning all of this was finding out that a few of my Urbana Locomotives were becoming "Itchy".  As manager, I was ready to go out and buy some jock itch cream for my boys.  I understood the fatigue terms like "Worn Out", "Tired" and "Bushed" but that was a new one on me.  It wasn't till I asked my fellow managers in the BoS League did I get a better sense of what it was it about.  They were quite helpful.
First, the official definition of Itchy from the help file:
A player becomes Itchy after riding the bench for several days of rest.  Players who have been inactive due to injury will typically be Itchy when they return to active status.  An Itchy player may incur unpredictable changes in his playing abilities.  If he is a pitcher, his grade may be higher or lower than his actual base grade.  If he is a non-pitcher, his abilities may be affected positively or negatively .  These include speed, fielding ratings, arm rating and batting ability.
BoS mananger Brad Stark had a good explanation, too:
"When a player enters a game after being itchy, there is a slight change he will play better, more of a chance he will play worse, but he may also be the same. I don't know what the exact percentages are, but is seems like maybe 50% the same, 35% worse, and 15% better. Again, not sure exactly, but it seems like it is best to try to keep your players from getting the itch."
I dunno… still sounds like I better get that cream.
Brad also notes that players' speed ratings not to mention the obvious pitchers' grades will be negatively affected.
I'll be honest, I'm still getting used to the BBW way of doing things and right now I'm sticking with a pretty stable lineup.  I realize I need to start shaking things up a bit to give my starters a rest.  That said, last week's BoS National League player of the week Garrett Jones' PRtD was getting close to his PR so I gave him a day off.  Mitch "not Keith's son" Moreland got two hits in his stead.
Disclaimer:  I'm new to all this and I already know I'm leaving a lot out.  A.I.M is pretty complicated.  I'm sure I'll be addressing this more in the future and perhaps my fellow BoS managers will jump in and leave some comments on their impression of A.I.M.
****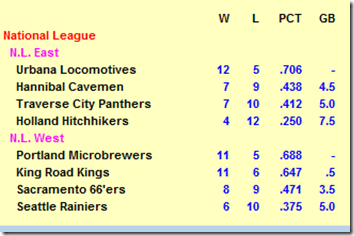 I'd be remiss if I didn't pass on this links.  Aside from an early lead in the NL East, they are already making headlines on Shawn Baier's Boys of Summer APBA League website.  David Price has been named National League Pitcher of the Week and Garrett Jones followed that up by being named BoS National League Player of the Week.