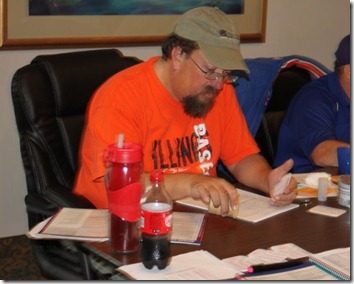 Welcome to The APBA Blog!
(yeah, that's me)
I hope you will enjoy your visit here and will come back often.  This web site is really growing in popularity!  In the past year, we've doubled in web traffic.  As we grow, our hope is that site will become a community of sorts for APBA-philes.  If you are a member of a league, please tell us all about it and we will post an entry about.
The APBA Blog began as a project of mine with the help of a few members of the Illowa APBA League.  The IAL is a ten-team league that play the basic version of the APBA baseball game.  We are currently in our 35th year of existence and have quite a history.  No doubt, you will hear some of our doings in this blog.
Now however, The APBA Blog has taken on other writers who write about their own experiences with APBA.  Scott Fennessy is writing about his deadball replays.  Mike Estep and Jeff Papas both contribute articles on their baseball replays.  I thank these gentleman for their time and effort!
Let me emphasize that I continue to envision this as a community driven project.  To that end, if anyone has an idea for a forum or article, run it by me and maybe we can post it.  Also, don't be shy about making commenting on our articles.  The more feedback, the better, in my opinion.
My other projects
If you ask me what my favorite baseball team is, the answer might surprise you.  I'm a hard core University of Illinois Fighting Illini baseball fan and I blog about them at Illinois Baseball Report.  There you'll find a pretty large archive of my photos going back six years.
Recently, I have also started covering the Illini baseball team for an online magazine called Smile Politely.
Following The APBA Blog
If you're on Facebook, 'liking' The APBA Blog's fan page will make it easier to follow us.  You'll get updates whenever I post a new article.  If Twitter is your thing, you can follow us @The APBA Blog and get updates that way too.
Thanks again for visiting and come back again!
Thomas Nelshoppen
The APBA Blog Disclaimer:
The APBA Blog is not affiliated with the The APBA Game Company in any way.  We are just a bunch of guys who really enjoy the game.  While this blog has no affiliation with the company, our intention is to promote the game in a positive way so that others may enjoy it more.
Any representation of the APBA game on this site is the property of the APBA Game Company.