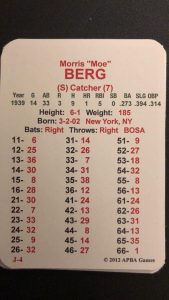 Good morning APBA Fan. Your mission, should you choose to accept it, is to discover the most interesting baseball player in history. As always, should you or any of your team be caught or killed, the Secretary will disavow any knowledge of your actions. This post will self-destruct when you finish reading it.
If Ethan Hunt had been a baseball player, his name would have been Moe Berg. If you don't believe me, you should watch the ESPN 30 for 30 film called Spyball.
As a Major League ballplayer, Moe Berg was impossibly ordinary in his fifteen seasons as a journeyman catcher. He was a lifetime .243 hitter with only six career home runs. After playing college baseball at Princeton, Berg broke in with the Brooklyn Robins as a middle infielder in 1923. In 1927, he took up catching and was surprisingly good at it. He set an AL record for 117 consecutive error-less games. But, that's his only career highlight. Berg bounced around during his career, playing in Brooklyn, Chicago, Washington D.C., and Boston…even though he couldn't hit worth a lick in an era in which everyone seemed to be able to hit. Why was he kept around for so many years? Some people say it's because he was a spy.
On the field he may have been a bore, but Berg's off the field life was fascinating.  If he were still alive, Berg would be a natural pitch man for Dos Equis beer. He was the most interesting man in baseball. After graduating from Princeton, Berg went to Columbia Law where he eventually passed the bar.  During his collegiate days, he studied at least seven languages: Latin, Greek, French, Spanish, Italian, German, and Sanskrit. Some say he mastered twelve languages in his lifetime.  At some point, he was approached and then employed by the Office of Strategic Services, the precursor to the CIA. He spent time in Yugoslavia, France, and Italy during the 1920s and early 1930s.  In 1932, he visited Japan and then toured China, Manchuria, Indochina, Siam, India, and Egypt. For some unknown reason, he was part of the Major League group that toured Japan in 1934.  The Big League stars in Japan included Babe Ruth, Lou Gehrig, Jimmie Foxx, Lefty Gomez, Charlie Gehringer, Lefty O'Doul, and….Moe Berg.  Mickey Cochrane? No. Connie Mack took Moe Berg. Why? Well, he probably was a spy sent there to collect surveillance film footage of Tokyo. It's believed his film footage was used when planning the Doolittle Raid of Tokyo. It's said that FDR once made a statement to, "thank the catcher for me."  After this mission, Berg toured the Philippines, Korea, and Moscow before heading back to the States for five more Big League seasons.  His best season was in 1935 with the Red Sox. Here is that card:
After retiring from baseball in 1939, Berg continued to work for the government in a covert capacity. His most thrilling assignment was in 1944. Berg was tasked with meeting Werner Heisenberg to ascertain if the Germans were close to a functional atomic bomb.  If they were, Berg was to kill Heisenberg and then take his own life with a cyanide pill.  Fortunately, he discovered that the Germans were not close to a completed atomic bomb and both Heisenberg and Berg lived to be old men.
Moe Berg's final card is one of his best.  However, APBA short changed him. This card calculates to a .250 average when Berg actually hist .273 for the season. If APBA had given him an extra 8 or 9, it would hit .275.  Nonetheless, it does have an 11-6 and a 66-1, which isn't bad for a backup catcher.  Let's just say it's better than Jim Price's card in my 1968 Detroit Tigers replay…I feel like I'm getting poked in the eye with a needle every time I have to start Price.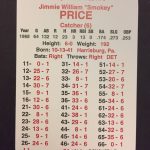 Season Totals

| Split | G | GS | PA | AB | R | H | 2B | 3B | HR | RBI | SB | CS | BB | SO | BA | OBP | SLG | OPS | TB | GDP | ROE | BAbip | tOPS+ | sOPS+ |
| --- | --- | --- | --- | --- | --- | --- | --- | --- | --- | --- | --- | --- | --- | --- | --- | --- | --- | --- | --- | --- | --- | --- | --- | --- |
| 1939 Totals | 14 | 11 | 35 | 33 | 3 | 9 | 1 | 0 | 1 | 5 | 0 | 0 | 2 | 3 | .273 | .314 | .394 | .708 | 13 | 1 | 1 | .276 | 100 | 91 |
Moe Berg was eccentric. When Casey Stengel says you're "the strangest man ever to play baseball," you know you're different. It was said Berg read several newspapers a day, in various languages. He insisted on being the first person to touch and then read a particular newspaper. If someone else touched the newspaper first, he wouldn't read it because it was "dead."  Berg once appeared on the radio game show Information, Please. He was an impressively intelligent winner. However, the host started asking too many personal questions of Berg and he never returned to the show.
After the war, Berg was awarded the Medal of Freedom for his distinguished service. However, Berg rejected the award.  After his death, his family accepted it on his behalf.  The CIA honors Berg in a different way, with a baseball card. It is the only baseball card on display at the Central Intelligence Agency.
This post will self-destruct in ten seconds.