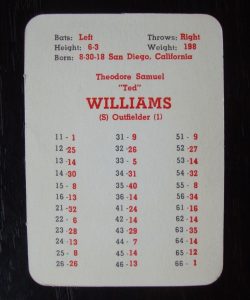 To me, Ted Williams is the John Wayne of baseball. He was a hero on and off the baseball diamond.  In many ways, his life played out like a movie script. From the sandlots of Southern California, he became the greatest hitter to ever live. At the height of his baseball powers, after hitting over .400 and then winning the Triple Crown, he left for three years to become a Navy pilot in World War II. After the war, he came back and won another Triple Crown and another batting title, then left again for nearly two years to become a Marine pilot during the Korean Conflict. You don't get much more heroic than that. Why hasn't someone made a biopic of this guy? It'd be a great year for it, since Williams would have turned 100 years old in 2018.
I wish I could have seen Williams play in person. However, his career ended over a decade before I was born. The Ted Williams I knew, growing up, was from television interviews, old highlight footage, and two books, My Turn at Bat & The Science of Hitting…and of course, APBA cards. As I got more familiar with APBA, I wanted to see the cards of classic individual seasons like 1921 & 1927 Babe Ruth, 1961 Roger Maris, and, of course, 1941 Ted Williams.
Season Totals

| I | Split | G | GS | PA | AB | R | H | 2B | 3B | HR | RBI | SB | CS | BB | SO | BA | OBP | SLG | OPS |
| --- | --- | --- | --- | --- | --- | --- | --- | --- | --- | --- | --- | --- | --- | --- | --- | --- | --- | --- | --- |
| | 1960 Totals | 113 | 87 | 390 | 310 | 56 | 98 | 15 | 0 | 29 | 72 | 1 | 1 | 75 | 41 | .316 | .451 | .645 | 1.096 |
You'd be hard pressed to find a better final card than the one Ted Williams produced for 1960. After battling neck problems in 1959 and having the worst year of his historic career, Williams produced an epic final campaign. His APBA card reflects it, with double ones, a 33-5 and a 22-6. As was typical for Williams, this card has seven 14s and should produce an impressive on-base percentage, much like the .451 Williams had. When more closely analyzed, this card should produce between a .310 and .318 average. Williams hit .316 for the season. This card has a couple of quirks. What's the deal with the 53-14 and the 61-16? I'm sure some APBA card historians know the answer. Overall, this card "looks" like a typical Ted Williams card. It has power and extra base potential, and it draws a lot of walks. That's what Ted Williams did. If you replayed the 1960 season, it'd have a great chance of hitting a home run in Williams final at bat.  That at bat and the end of his career was captured perfectly in John Updikes's Hub Fans Bid Kid Adieu, which he wrote for the The New Yorker in October, 1960. If you've never read that article, do yourself the favor.
Looking at this card, it's easy to wonder why Williams didn't play another two or three seasons. However, he had been battling injuries since the mid-1950s and had lost the desire to put his body through the marathon of another Major League Baseball season. Plus, after only hitting .254 in 1959, he had redeemed himself nicely in 1960. He didn't want to risk ending his career on a disappointing season in 1961.
The real what if, when it comes to Ted Williams, is what career numbers he would have produced if he hadn't missed nearly five seasons to military service.  If you just take his yearly averages (.344 37 130), Williams would have hit 706 home runs and collected 3,594 hits. However, I think his numbers would have been even greater. The years he missed were in the prime of his career, when he was 24, 25, 26, 33, and 34 years old. It's very likely he would have had at least a couple of MONSTER seasons to push him closer to Babe Ruth's career home run record and maybe Ty Cobb's career hit record. It always fun to speculate. What would be really interesting is if someone replayed the 1942, 1943, 1944, 1951, and 1951 Boston Red Sox seasons with Williams in the lineup. You'd want to use his 1946 (.344 38 123) card because it's nearly an exact match to his career averages. If you did that five season replay and then added Williams numbers to his career totals, you'd have an excellent idea where Williams would have been when he hit that home run in his final at bat on September 28, 1960. Let me know if you ever attempt this feat…I'd be fascinated to know the statistics.