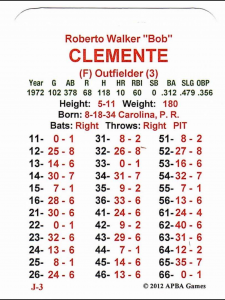 On the evening of October 11, 1972 in front of 41,887 spectators, Johnny Bench of the Cincinnati Reds hit a dramatic home run off Dave Giusti of the Pittsburgh Pirates to tie the deciding game of the NLCS. A few minutes later, the Reds would win the pennant on a walk-off wild pitch scored by George Foster.  Lost in the excitement of the Bench home run was the Pirates' right fielder…Roberto Clemente…who watched the blast sail over his head and ricochet off a pillar. It was the last minutes Clemente would spend on a Major League Baseball field.
Just eleven days earlier, Clemente collected his 3,000th Major League hit off Jon Matlack. Unbelievably, there were only 13,117 in attendance for that historic moment. The World Champion Pirates were on their way to another NL Eastern Division title and Clemente was in need of a rest. His health had been a struggle for the entire season. He missed nearly four months because of stomach and feet problems.  So, once Clemente collected his 3,000th hit, he took the rest of the regular season off to prepare for the playoffs.
Even though he'd only appeared in 102 games, Clemente had an excellent season. However, one wonders how much longer he would have played. Considering he would have been 38 years old in 1973 and had been battling injuries for years, he probably would have played at least two more seasons. Nonetheless, because of his tragic death, his 1972 season was his last, and it was one of the better final seasons in Major League history.
Season Totals

| I | Split | G | GS | PA | AB | R | H | 2B | 3B | HR | RBI | SB | BB | SO | BA | OBP | SLG | OPS | TB | GDP |
| --- | --- | --- | --- | --- | --- | --- | --- | --- | --- | --- | --- | --- | --- | --- | --- | --- | --- | --- | --- | --- |
| | 1972 Totals | 102 | 88 | 413 | 378 | 68 | 118 | 19 | 7 | 10 | 60 | 0 | 29 | 49 | .312 | .356 | .479 | .835 | 181 | 15 |
This updated (2012) final Roberto Clemente card is much more generous than the original. Upon closer analysis, it should produce a .323 average,  much better than the .312 Clemente actually hit. Though it's a second column card, it does have four zeros and should produced solid extra base numbers. Even with his injuries and advanced age, Clemente is still rated a (F) runner and an Outfielder (3). As was the case throughout his career, Clemente didn't walk or strikeout much. Reflecting that, this card only has two 14s and three 13s. Here's a look at the original 1972 card: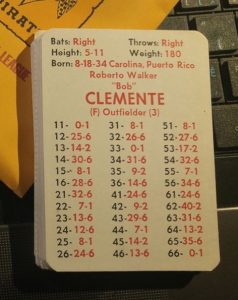 As you can see, this card is missing a 15-7. However, it does have an extra 14. It has much better numbers in the second column…there are no 7s and 8s to be found…but it only has three zeros. Still, the missing zero and 7 is significant. My analysis only has this original card hitting .303. There's not much debate that the updated version of Clemente's card is much better. It's interesting that APBA made such significant changes to it.
Roberto Clemente was a model of consistency for eighteen seasons. He hit over .300 twelve of the last thirteen seasons of his career. The only exception was 1968, the Year of the Pitcher, when he hit .291. He was a tremendous defensive right fielder for all of his playing days, demonstrating that to the nation in the 1971 World Series. But, more than anything, Clemente had a charisma about him. He was athletic art in motion.  This was apparent on and off the field. Clemente was an intellectual leader, who cared about other people. He wasn't afraid to speak his mind to try to improve the world in which he lived.  When Clemente played, his heart was always in it. When he was off the field, the same could be said…and that's why he's no longer with us.