---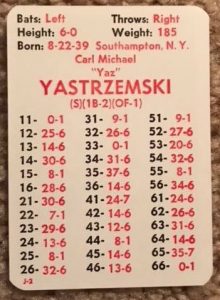 For me, baseball cards and APBA are connected. When I first became interested in baseball, Topps lost its monopoly on manufacturing baseball cards. In 1980, Fleer and Donruss were given permission from Major League Baseball to produce their first sets. During the two years I lived in Fern Park, FL, I recall riding my bike to the local flea market to buy packs of Topps, Donruss, and Fleer cards. For some reason, I liked the Fleer sets best. One of the cards I pulled was this: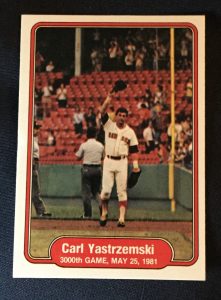 This card was my introduction to Carl Yastrzemski. I remember thinking, who's this guy with the funny name I can't pronounce.  Of course, in those days you weren't a Google search away from an encyclopedia of information. If you wanted to know more about a player you had three options: talk to someone in the know, look it up in a book or magazine, or figure it out through baseball and APBA cards. I tried to figure it out through baseball and APBA cards.
The first APBA set I ever played with was an incomplete 1974 season. My brother, a friend of ours, and I drafted teams. I don't recall Yaz being on one of the teams. Maybe his card was missing. However, I'm sure he would have been drafted because he had a solid year, hitting .301 with 16 homers. Later, we drafted the 1966 season, but Yastrzemski didn't make it on a squad because he only hit .278 with 16 home runs that season. The first "new" set we bought was the 1984 season. Of course, Yaz retired after the '83 season, so we didn't even have the option to draft him. Chances are, we wouldn't have anyway. Though his season was solid for a final card, it wasn't exactly what we were looking for to fill our rosters.
Season Totals

| Split | G | GS | PA | AB | R | H | 2B | 3B | HR | RBI | SB | BB | SO | BA | OBP | SLG | OPS |
| --- | --- | --- | --- | --- | --- | --- | --- | --- | --- | --- | --- | --- | --- | --- | --- | --- | --- |
| 1983 Totals | 119 | 107 | 437 | 380 | 38 | 101 | 24 | 0 | 10 | 56 | 0 | 54 | 29 | .266 | .359 | .408 | .767 |
APBA was generous to Yastrzemski for his final card. Though he hit .266 for the season, I project this card to hit .283. For some reason, APBA gave Yaz an extra 8. If this card had the standard three 8s, it'd hit .258. The other reason this card should over performing is because it has five 14s. Yastrzemski drew 54 walks in 437 plate appearances. That should have earned him four 14s instead of five, which would produce a .275 average on this card. That seems more accurate. Nonetheless, I never have a problem with a final card over performing. It's like a tribute to the player. In this final season, Yastrzemski was almost exclusively a designated hitter. He started 103 of his 107 starts as a DH. He did play a few innings in the outfield and at first base, which earned him a 1B-2 and an OF-1.
As I learned about baseball history, I discovered that Yastrzemski was a remarkably durable and consistent player.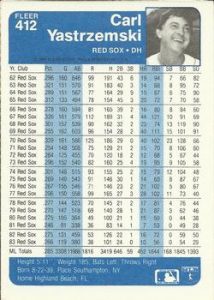 For seventeen of his twenty-three seasons, he played in 144 or more games. The back of his baseball card proves it. He won the Triple Crown in 1967. That fact stayed with me until 2012 when Miguel Cabrera, of my Detroit Tigers, became the first person in my lifetime to accomplish the feat. I was always extremely impressed with Yaz's Triple Crown, and I thought I'd never see someone do it. Also, I was fascinated with Yastrzemski's 1968 AL batting title, when he hit .301. It was, and still is, the lowest average to ever win the championship. In my 1968 Detroit Tigers replay, Yaz has done well against the Tigers. His card stands out against the numerous terrible ones I see in most 1968 lineups.
As I continued to collect baseball cards, I realized that Johnny Bench and Carl Yastrzemski were both retiring in 1983.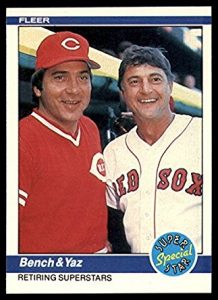 I remember them being honored at the 1983 All-Star Game in Chicago. At that time, I was listening to Al Kaline on the Tigers television broadcasts. All Tigers fans know that Kaline came up a homer short of becoming the first American Leaguer to have 3,000 hits and 400 home runs. Several years later, Yastrzemski accomplished that feat. It was a testament to durability and consistency for nearly a quarter of a century.