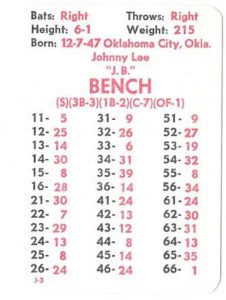 When I was growing up, my twin brother Kirk's favorite player was Johnny Bench; mine was Reggie Jackson. I'm not sure why we picked them, but we both have many 1970s and 1980s era baseball cards to prove it. When we were nine years old, we lived in Florida for about eighteen months. On the weekends, we'd ride our bikes to the local flea market and buy baseball cards…new packs and old singles.  After we moved back to Michigan, we found a television show called The Baseball Bunch, which was hosted by Johnny Bench.  On each episode, there was comedy with the San Diego Chicken, strategy with the Dugout Wizard (Tommy Lasorda) and a baseball lesson with a 1980's MLB star, like Ozzie Smith, Gary Carter, or Graig Nettles. We loved it. It was the first time that star athletes seemed like real people. They were more than pictures on cardboard or images on the television.
The thing about Johnny Bench is we never saw him play, not in person or on television. We'd read about his legendary abilities and knew his statistics from his baseball cards, but until we saw him on The Baseball Bunch, he was a static image in our minds.  In the end, we really only knew him through APBA and his all-time great 1970 season. When we were born in 1972, Bench was having his final monster season. He had successful lung surgery at the end of that MVP campaign, but the surgery left him less than the player he once was. As he's said, he was never really "Johnny Bench" again. Sure, he was still the best catcher in baseball throughout the 1970s, but he was about 80% of his pre-surgery self…which was still good enough to get elected to the Hall of Fame on his first ballot.
By the time we became huge baseball fans in 1983, Johnny Bench was set to retire. This was strange to me, since Bench was only two days younger than my father. Even though he was only thirty-five years old, thirteen straight years of catching 100+ games had caught up with him…no pun intended. Ten times in his career, Bench caught 75% or more of his team's games; twice he caught 90%.   However, in 1983 Bench would only catch five games, after catching just one in 1982. By the end of his career, Bench had become a weak fielding third  and first baseman. Bench paid the price for his toughness and durability. As he said last year, "I've had 30 chips taken out of my shoulder … I had seven to 10 concussions. I got beaned three times, saw stars and went to first base. I had seven (protective) cups broken, a detached bicep and … I'm going to get one more surgery on my right elbow …The warranty ran out of my parts. What are you going to do?" I guess the answer is give everything to become the greatest catcher in Major League history.
Johnny Bench's final card is solid. Bench batted fourth for a majority of his seventy-three starts.  It has some power, with a 5-6-1, and it should produce an average on base percentage.  Yet, APBA seemed to short change the Little General. For the season, Bench hit .255, but this card calculates to a .242 average. On a positive note, it only has three 13s, and it has a solid three 14s. However, it has a painful four 24s, reflecting the thirteen double plays the old catcher bounced into in 1983. Maybe Bench would have done better in 1983 if Earl Weaver had been his manager and shared his wisdom when he said, "If you feel like you're going to hit into a double play, strikeout."
Season Totals

| Split | G | GS | PA | AB | R | H | 2B | 3B | HR | RBI | SB | CS | BB | SO | BA | OBP | SLG | OPS | GDP |
| --- | --- | --- | --- | --- | --- | --- | --- | --- | --- | --- | --- | --- | --- | --- | --- | --- | --- | --- | --- |
| 1983 Totals | 110 | 73 | 334 | 310 | 32 | 79 | 15 | 2 | 12 | 54 | 0 | 1 | 24 | 38 | .255 | .308 | .432 | .741 | 13 |
Nowadays, fans get to see their favorite players as much as they want. Every Major League game is televised, and it's not difficult to tune into a broadcast. But, in the time of Johnny Bench, that wasn't the case. Like many of his contemporaries, only local fans were able to enjoy the abilities of most Major league stars. Even then, only a handful of games were televised. Frequently, local teams were followed on the radio. The rest of us only saw the stars in the All-Star game or the Post Season. More than anything, players existed in our minds, on their baseball cards, and on their APBA cards.  But somehow, that was alright, and in some ways, that was better.