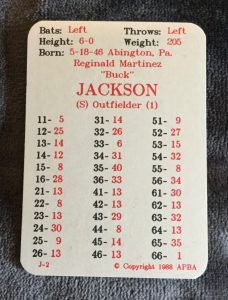 When I was nine years old, living in Florida, and becoming serious about baseball, my favorite player was Reggie Jackson. I remember seeing highlights of the 1977 World Series when he hit five homers.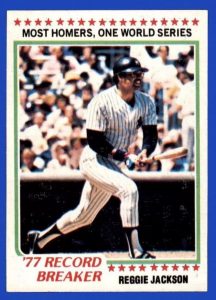 Then I picked up the baseball card to the left, describing how Jackson did something only Babe Ruth had done…hit three home runs in one World Series game. How cool was that? At the time, I didn't know about the divisiveness Jackson brought to baseball. I didn't realize he was a "love him or hate him" kind of player. To me, he was simply the only guy playing who was compared to Babe Ruth. My twin brother, Kirk, had gravitated to Johnny Bench. I picked Reggie Jackson when I read the back of the card.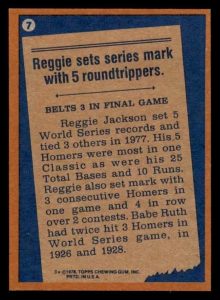 From that moment on, I bought every Reggie Jackson baseball card I could afford at the flea market. From the cards, I figured out that Jackson had started with the A's and eventually ended up with the Yankees. My new packs of Fleer cards showed him playing for the California Angels. They became my first favorite team.
When I moved back to Michigan in 1983, I wanted to see Reggie Jackson and the California Angels play. I'd seen footage of his famous home run at Tiger Stadium in the 1971 All-Star Game and hoped he might do something similar. For our eleventh birthdays, my mother took my brother and me to Tiger Stadium to watch the Angels play the Tigers. I recall May 7, 1983 was a sunny Saturday, and that we had box seats down the first baseline by the visitors dugout. We arrived early and were able to watch batting and fielding practice. The crowd was small, so my brother and I were able to maneuver ourselves by the Angels dugout. At the end of batting practice, one of the Angels coaches rolled a ball down the dugout to me. I now had a REAL Major League baseball, my first ever! Later, I found out that coach was Jimmie Reese, Babe Ruth's roommate during the 1930 and 1931 seasons, or as he use to say he "roomed with Ruth's suitcase." The game was excellent and featured three future Hall of Famers (Jackson, Rod Carew, and Alan Trammell) who managed to go 0-16 cumulatively for the day. The Angels won in twelve innings. Jackson was 0-5 drawing a walk.
Back home at our apartment complex, my brother and I decided to play catch with our REAL Major League baseball. After about five minutes of catch, my brother threw the ball wildly by me, sending it down the street and toward a sewer grate.  Running as fast as I could, I could not catch up with the errant throw. My heart sank as the ball disappeared into the grate…and I had a few choice words for my brother.
I would see Reggie Jackson play once more, two seasons later.  Jackson would again have a hit-less game with a walk, but the game was one of the most exciting I've ever attended. It was August 20, 1986 and Walt Terrell took a no-hitter into the ninth inning. As I watched from the center field bleachers at Tiger Stadium, rookie Wally Joyner hit a two-out double down the right field line to break up Terrell's bid. Even though the Tiger's won 3-0, it was a disappointing walk back to the car.  Reggie Jackson would retire after the next season.
Season Totals

| Split | G | GS | PA | AB | R | H | 2B | 3B | HR | RBI | SB | CS | BB | SO | BA | OBP | SLG | OPS | TB | GDP | HBP |
| --- | --- | --- | --- | --- | --- | --- | --- | --- | --- | --- | --- | --- | --- | --- | --- | --- | --- | --- | --- | --- | --- |
| 1987 Totals | 115 | 83 | 374 | 336 | 42 | 74 | 14 | 1 | 15 | 43 | 2 | 1 | 33 | 97 | .220 | .297 | .402 | .699 | 135 | 3 | 4 |
Reggie Jackson's final card looks like what you'd expect. It has some power and a lot of strikeouts. That was Jackson at the end of his career. However, I must note, Jackson was a good base stealer for the first half of his career. He stole over 20 bases four times and averaged 13 steals a year in 21 seasons, even though he didn't swipe over 10 bags for the last nine years of his career.  In 1987, Jackson only played 115 games for the Oakland A's, 79 at DH and 20 in right field. He managed to hit 15 homers in 336 at bats, which earned him a 66-1 and a 11-5.  He also struck out 97 times, which garnered eight 13s.  However, notice that he doesn't have any 24s. I guess the 41 year-old veteran had learned to strike out when he felt like he was going to hit into a double play.  Jackson only hit .220 in 1987, however this card should produce a .236 average. It's helped by having four instead of the standard three 8s.  If it only had three 8s, it'd only hit .212. I guess APBA thought Jackson might pick up a few singles against C-pitchers to get him to .220. They're probably right.
After Reggie Jackson retired, my favorite player became Rickey Henderson. I was enamored with his combination of speed and power.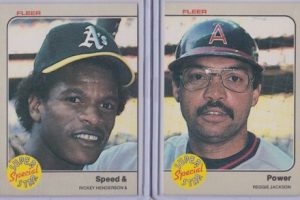 I loved the way he could disrupt a game just by drawing a walk and being on base. At the time, I was a high school baseball player, and I tried to emulate Rickey Henderson. Like Rickey, I batted with a crouched stance and I ran the bases trying to disrupt the pitcher.  Jackson and Henderson were both divisive player. For some reason, I seem to be drawn to players who have a distinctive style and bring something different to the game. I'm okay with some cockiness if you can back it up. It brings some added excitement to the game.  Even today, I'm a fan of Bryce Harper, who is just as divisive as Reggie or Rickey ever were.  Love them or hate them, you can't deny that all three made and make any game they're playing in more interesting.