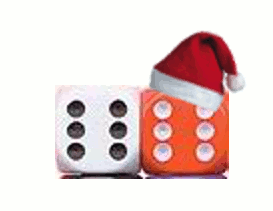 I want to wish all APBA fans a Merry Christmas and Happy Holidays!  I hope these days are festive for everyone or at the very least, stress-free.
I have to give kudos to my Illowa APBA League commissioner, Mike Bunch who is so dedicated to our league that he emailed our monthly newsletter on Christmas Day.  A little credit goes to our league managers too.  A lot of us IAL managers wait till the 28th of the month deadline but we all got our games and stats done early this month so Mike could get the newsletter done quickly.
It's amazing how our APBA community has grown in the past few years.  If I begun to list the people whose lives that have touched mine because of APBA, this article would be quite long.  Between league play, tournaments, this blog, and everything else, it is amazing the sense of community that we have.  I will take the time to recognize Scott Fennessy and Rod Caborn who have been contributing to The APBA Blog for last several year.  Thanks guys!
We have lots of APBA action coming up in the next year (more on that later).  Here's to a fantastic APBA 2018!