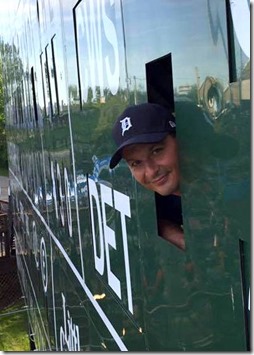 The APBA Blog is taking on a new writer!  His name is Kevin Weber and many of you may be familiar with his name.
It all started with a thread on Facebook's APBA Group centered around a Mickey Mantle card.  I won't give away too many details on that discussion since it may be the impetus of a future article of Kevin's (let's face it, some of you on Facebook know what I'm talking about).  Kevin and I started talking offline, found we had a lot in common and he offered to help out with The APBA Blog.  I was happy to accept.
Some info on Kevin:
Kevin hails from Grand Rapids, Michigan
He is a teacher (as a father, I appreciate that!)
He lives and breathes Detroit Tigers (a big Alan Trammel fan, of course)
Kevin knows his baseball.  He is an umpire for organized collegiate baseball
I really look forward to having Kevin on board The APBA Blog.  He uses the APBA basic game to replay single team replays and Great Team of The Past tournaments.  Not surprisingly, Tigers are a big focus of his single team replays including the 1908, 1968 and 1984 seasons.
Kevin also brings some experience with iScore something which I do not possess.  Hopefully, in future articles he can educate some of us (me) on its finer details.
Welcome aboard, Kevin!!