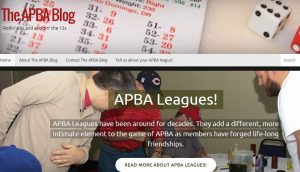 What better way to spend your vacation than upgrading the website?  If you haven't noticed, The APBA Blog has gone through a bit of a renovation and the overall theme has been replaced.
First, take a look at the landing page of The APBA Blog.  It has gotten a workover with nifty scrolling sliders at the top highlighting the broad general topics of APBA Games.  Below that, I've implemented a magazine layout format.  So rather than rather than a scrolling articles, you can see at an easier glance what's been posted.
The overall layout gives me much more room to work with but there is another advantage… One of the best advantages, it is more mobile-friendly!
There are updated thumbnails and navigation tools as well as an overall new look for the site.  I am still working on a few things but I like it.
As always, notifications will still be posted to The APBA Blog's Facebook page and Twitter so you'll know when there is something new up.
Feel free to let me know if something doesn't work or if there a change that doesn't work for you.
thanks!