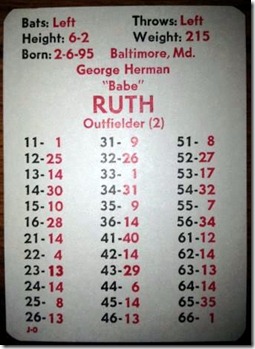 Probably about time I got around to this one, eh?
Babe Ruth's 1927 card came across the APBA Baseball Facebook group page this past week.  That's good timing because we had a request for the Babe.  Why?  Because he is the unspoken standard of how we judge not only baseball hitters but APBA cards.  Sure, there are full time players out there with better offensive cards (Barry Bonds comes to mind.  Maybe Al Simmons or Rogers Hornsby, too). But the 1927 Babe Ruth card is the gold standard we compare every power hitter.
There's a term we use in the Illowa APBA League (who knows, it's probably used everywhere.  'B-T-R'.  When a power hitter is up and the base situation give an homerun advantage because his extra base numbers (for example, Troy Tulowitzski's 1-5-5-6 with a runner on first).  When that happens, we just say, "B-T-R" before we roll.  That's just short for "Better Than Ruth". 
It's an homage to the legend.
Split
G
PA
AB
R
H
2B
3B
HR
RBI
SB
CS
BB
SO
BA
OBP
SLG

1927 Totals

151
691
540
158
192
29
8
60
164
7
6
137
89
.356
.486
.772
Ruth was, I believe, the first player to receive three first column 1s on his card.  That in of itself was an achievement.  Add to that the 55-7 and the 10 (it still amazes me that Ruth was a fair base runner).  And the walks!  He has eight 14s to only four 13s. 
We got into an interesting discussion at our recent league weekend about baseball milestones.  You all hear the number 714 and you instantly know what that means when it comes to baseball, right?  755?  You bet!  But of course those are #3 and #2 respectively in the all time list of career homeruns.  We took a poll among those in the room at the time and no one could say with any degree of certainty what the career record for homeruns was.  We knew WHO it was but none of the baseball geeks in the room could rattle off the number off the top of our heads. 
I'm not sure what that says (I have a few theories) but the magic of the number 714 still stands strong. 
See other Monster Card Monday selections