"6 on 15 and 10's on 31 & 51… Are you kidding me?"

-Rich Zawadzki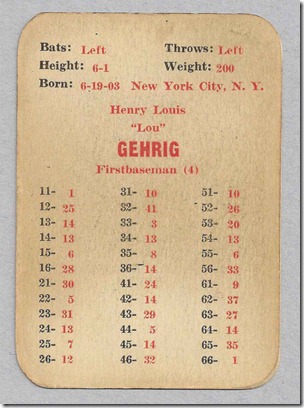 Thanks to Pastor Rich Zawadzki for suggesting this 1927 Lou Gehrig card for Monster Card Monday.  It's a fantastic card… and a rather unconventional one at that. 
Of course, it was one of Gehrig's best years for the World Championship Yankees who won 110 games that year.  Even playing along side Babe Ruth, he still led the AL with 175 rbis.  He hit an amazing 117 extra base hits (52-18-47) and still managed to steal 10 bases and walk 109 times. 
Split
G
PA
AB
R
H
2B
3B
HR
RBI
SB
CS
BB
SO
BA
OBP
SLG

1927 Totals

155
717
584
149
218
52
18
47
175
10
8
109
84
.373
.474
.765
Gehrig's power numbers of 1-1-3-5-5-6-6 are unprecedented for a full-time APBA card, I think.  The 15-6 necessitated moving his two speed numbers to the 31 and 51.  That's just the beginning of his card's unconventionality. 
He has a 32-41. The result numbers on14, 34 and 54 are all 13s (no other places to put strikeouts, I guess). 
My question to readers is what set does this card come from?  Doug Burg's APBA Card 12 List states that the first 1927 set has the 12 at 61.  Is this from the first OFAS set?
Again, great suggestion, Rich!