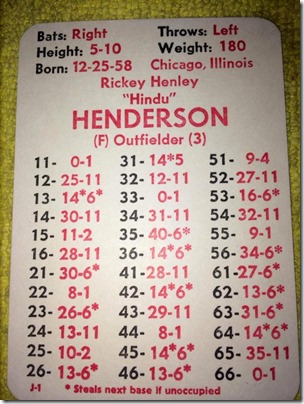 Before I get started, I'd like to recognize reader Aaron Wilson.  Some of you may have seen last week's 2-year anniversary Monster Card Monday featuring Ted Williams.  Aaron saw the article and emailed and reminded me how he is partly responsible for the feature's creation. 
He's right.  Two years ago, Aaron saw this article about my 1930 replay fun with Brando.  It showed Babe Herman's 1930 card on it and in his words, "I would enjoy a longer post about the best hitter cards you've ever seen.".  That's how Monster Card Monday was born. 
Aaron contacted me again after last Monday and we traded a few emails.  He's already giving me new ideas!  Thanks Aaron!  Great idea!
Now on to this week's Monster Card…
This 1982 Rickey Henderson card was the subject of discussion on Facebook's APBA Baseball Group.  Say what you will about Henderson, the man did his job and did it well.
1982 was the season that Henderson obliterated Lou Brock's modern stolen base record with 130 steals.  Probably not coincidentally, he also broke the all-time record for times caught stealing with 42 (Ty Cobb comes in second with 38 in 1915).  Henderson also led the league in walks for the A's with 119 BB.
| Split | G | PA | AB | R | H | 2B | 3B | HR | RBI | SB | CS | BB | SO | BA | OBP | SLG |
| --- | --- | --- | --- | --- | --- | --- | --- | --- | --- | --- | --- | --- | --- | --- | --- | --- |
| 1982 Totals | 149 | 656 | 536 | 119 | 143 | 24 | 4 | 10 | 51 | 130 | 42 | 116 | 94 | .267 | .398 | .382 |
This particular card is as pock-marked as Mike Schmidt's face.  With six 14*s and fifteen 6*s in the second column, it's a wonderfully starry mess.  Hindu also has an 11, a ten and eleven second column 11s to go along with his asterisks so a 130 stolen base season might be a possibility if one to do a replay.
Henderson's card isn't just useful because of his speed, though.  For one, he's an OF-3.  More importantly, he's got six 14s which prompts the phrase, "you can't steal first base".  What I find unique, is that he has a 35-40 but a 36-14.  It's not a hard and fast rule or anything but I've noticed that those players with just a couple walks seem to get the 36-14.  Those with many more usually don't.
Interestingly, Rickey has many ways to get to second and a some more to get to third but precious few to get to just first base unless he's facing a D pitcher.  He just keeps running.
Now, I've heard anecdotes and rumors about Henderson about him running up the stolen base total toward the end of the 1982 season.  Quite honestly, the stats don't back it up.  He had much more steals in the first half of the season than the second half (84 to 46),  His CS stats aren't really conclusive either.  I don't doubt he was gunning for the record but not necessarily at the expense of the team.  For the record, only eight of the 130 steals came with the A's either ahead or behind by four or more runs.  Here are his clutch stats for 1982 if you care enough to look them up.
Note also:  Rickey Henderson is a Monday repeat.  His more powerful 1990 card was featured in March 2012.