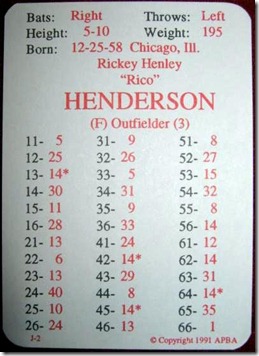 This week's Monster Card is the "Man of Steal" himself, Rickey Henderson.  Dom Provisiero should appreciate this choice. 
1990 is not the year Rickey Henderson broke the all-time steals record (you could probably tell that from the APBA card).  But one could make an argument that 1990 was one of his best all-around offensive years.  That year, he had his highest career batting average (.325), slugging percentage (.577), and OBP (.439) all rolled into one season.  He led the AL with 65 stolen bases and runs scored.  On top of that he hit 28 homers and 31 doubles. 
No wonder Dom P. loved him.
Split
G
PA
AB
R
H
2B
3B
HR
RBI
SB
CS
BB
SO
BA
OBP
SLG

1990 Totals

136
594
489
119
159
33
3
28
61
65
10
97
60
.325
.439
.577
APBA rewarded Henderson with a card that any team would love to have.  The question is:  where would you bat such a card?  His card had power (1-5-5-6), speed (11-10, plus four 14*s), and also on base value ( a total of six 14s). 
If all that weren't enough, Henderson was rated as a (F) runner and a OF-3. 
Like his attitude or personality or not, the man put out.  One look at his total career stats will tell you that.  His listing of Awards and Leaderboard appearances takes up three pages on my browser. 
See other Monster Card Monday selections