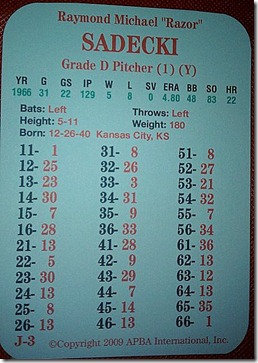 I'm excited about this week's Monster Card Monday.  Not only is it the first one of 2012 (and we haven't had one for two weeks) but it comes from the new 1966 card set I just bought. 
I focused my search for the MCM on the National League since I 'm pretty sure that's the league I'm going to do my replay.  It didn't take too long to find him.  It was Ray Sadecki.  SF Giant Sadecki certainly wasn't an All-Star pitcher in 1966 going 5-8 with a 4.80 ERA.  But he could hit. 
Sadecki hit .341 in 41 at-bats in 1966 with 7 rbis and 7 runs.  He hit a total of three homers with a double and a triple thrown in.  Those are great season stats but it was his hitting in the month of July that really brought those numbers up.  In July, he went 5 for 11 with two HR with the double and the triple.  Four of the seven rbis came in July, too.  Definitely a "hot" hitter. 
Split
G
PA
AB
R
H
2B
3B
HR
RBI
SB
BB
SO
BA
OBP
SLG

1966 Totals

32
45
41
7
14
1
1
3
7
0
1
7
.341
.357
.634
Sadecki's card is pretty juicy.  His power numbers are 1-1-3-5 and he has a 7 on 15. That puts the last 9 on the 42.  Runners on pretty much any base any he has a what we call a "BTR" (Better Than Ruth) card. 
After looking at Ray Sadecki's pitching stats, it occurred to me that I never realized how long he really played in the majors… and he didn't do too badly on the mound. Ray pitched for 18 years in the bigs as a split starter (1960-1977), appearing in 563 games and starting 328. He came up a winner in the end with a 135-131 record. His ERA of 3.78 in 2500+ innings shows he got the job done. Yet, he played for six teams in those 18 years so he wasn't much of a household name.
For his efforts, Ray Sadecki was inducted into the Polish Sports Hall of Fame, though. Below is an interview done during the induction process.
j
And for those curious, he wasn't a bad hitter for his career (.191) but he never really approached his 1966 numbers both in terms of average or power.