The question came up in The APBA Blog's comment section about how customizable the APBA Baseball Game (aka Baseball for Windows) was.  I knew from my experience in Shawn Baier's Boys of Summer APBA League that it had to have the capability to customize to your liking but I didn't know the details.  I thought I'd take a deeper look.
While you probably CAN play with the original disk that comes with the game (or that you install), the APBA game usually recommends that you use APBA's Advanced Draft to make a copy of it to play.  That way, you still have a pristine version if you ever want to start again. 
This is what you see when you make that copy: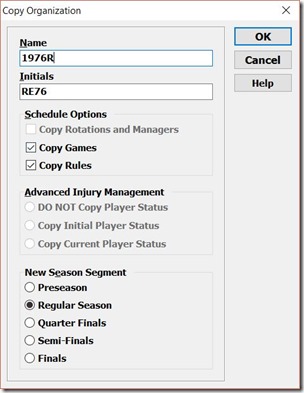 The important step is to give it a unique name and initials.  If you're playing a regular season, keep that checked.  Don't worry, there are more steps that allow you to customize your setup. 
Close out Advanced Draft and open League Manager.  To actually set up your schedule, click on "Schedule" at the top and then "Generate New Schedule". 
You will see this window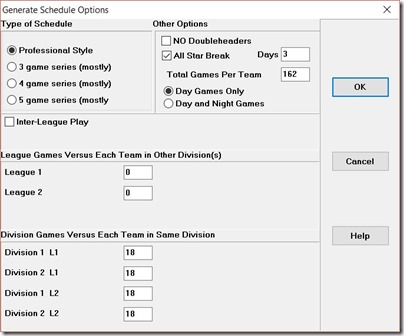 From here, you configure your schedule's length, divisional play, and other features (doubleheaders? All-Star break? Night games?)  
Finally, you can configure some of APBA Baseball's other features such as Advanced Injury Management (AIM) by clicking on "Schedule" and then "Schedule and A.I.M. Rules". 
You will then see this window.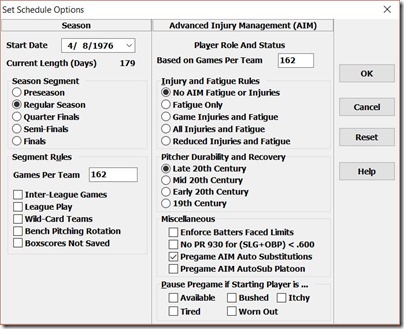 Again, you can set length of season and parameters like Inter-League play, Wild card teams.  However, you can also configure whether your replay will be affected by injuries, fatigue or you can disable the entire concept and play who you like (hint: AIM is pretty awesome.  Use it!). 
In the above photo, you see the section on Pitcher Durability and Recovery.  It's pretty self-explanatory but pitchers from different era simply tire out at different rates.  This takes that into consideration. 
I haven't addressed pitching rotations yet but the above should give those who were wondering about scheduling customization enough to go on for a while.  Feel free to ask any questions.