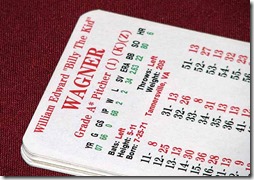 I've gotten a few emails lately from people who have the older boards but have bought newer card sets.  The dilemma arises with the newer pitching ratings, the 'K' and the 'R'.  How to handle these ratings when your boards don't reflect these changes is the big question. 
David Glancy is one of these APBA players:
I have been playing APBA baseball since 1962 with 2 other guys. We formed an 8 team league in 1982 and have been playing ever since. We have most of the seasons, 1962 through 2001 as well as many all time great teams etc. We play the old fashioned way with dice and only use the computer to do end of the year stats & all-star teams. We play a 162 game schedule with 8 teams and we do commit the sin of mixing players, years etc.

My question is:  I recently purchased the 2010 season (we got down on the modern players because of steroids, player pay etc) and found the following symbols on some pitchers; K, R and there was no reference to them in the new boards & rule book I bought in 2001. So, they must be since then. What do they refer to, strikeouts, walks or ???

Thanks, Dave
The 'R' rating
As I said, I've gotten plenty of this type of question from readers.  Put simply, the 'R' rating is to reduce the number of strikeouts (lower than the rate of a pitcher with no strikeout letters). 
The 'R' rating has 4 rules it follows:
it only takes effect with the result #13
it only takes effect with less than two runners on base
when it goes into effect, it turns a 13-Strikeout into a non-strikeout
the fielding results are varied but none result in a runner being advanced
The 'K' rating
Conversely, the K rating turns fly outs, groundouts and pop outs into strikeouts… and there are MANY of these.  The K pitcher will strikeout many more than the normal 'XY pitcher.  For example on the Bases Empty board, a 'K' pitcher will turn strikeouts on four extra results that a non-'K' pitcher will not.  The 'K' also has added oomph since the results it effects are more common such as 28, 30, 24 etc. 
Adapting to the new ratings
For those who are looking to adapt their new cards to old boards, there are a couple of options: 
1.  Buy the new boards. 
Aside from getting up to date on the new ratings, there are some significant changes to the new boards.  Most of them I even like.  If it's in your budget, I highly recommend getting them.
2.  Adapt to a new K system
If you're too in love with your APBA boards to part with them, you could treat the 'K' pitcher as an 'XY' rating and perhaps even add an extra number like 28 that would result in a added strikeout.  Others could chime in.  It may take more than one added result to achieve accurate numbers. 
Seriously though, buy the boards.  You'll get better results.  :)