Some time back, I got into a pleasant chat over email with John Herson, CEO of the APBA Game Company.  I took a chance and asked if he would be willing to engage in a Q&A interview for The APBA Blog.  He not only readily agreed but even suggested that we do this on a regular basis. I'm glad I asked.
I asked my inner circle of APBA friends for suggestions on questions and expanded on them.  Here is the interview:
---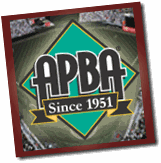 The APBA Blog: I'm sure the APBA Game Company doesn't make major changes to a board game lightly especially knowing how much it impacts those who play the game. What is the process the company goes through when these occasional changes are considered?
John Herson: You are correct that  game changes are not done lightly.  The major issue is to make sure that any change does not impact the playability of previously released card sets. Most changes are generated by ABPA fans' comments and suggestions.
We are play testing a proposed change to the basic baseball game.  This change, if adopted, will require a new player rating.  In addition to game testing the change, APBA has to determine if the required information to calculate this rating is available for all seasons.
TAB: How have you targeted young adults and children when marketing your games? How much have video games impacted the bottom line in this matter?
JH: APBA has not a good job of targeting young adults and children.  Beginning with soccer, APBA is preparing a series of videos of children playing APBA games.  Instruction videos are being prepared.  These videos will be available on APBA's website and You-Tube.   APBA is working to spread the APBA message using the internet and social media.
The old marketing plan of advertising in periodicals does not work.  When I first purchased APBA, we ran ads in the Street and Smith and Sporting News baseball annuals, APBA got a lot of positive responses from fans glad to see the ads again.  However, the advertising cost in excess of $8,000 and generate less than ten orders.
Initially video games did impact APBA's business.  Unlike the video games, APBA is NOT a hand-eye coordination game.   Right now video games are not impacting APBA.
TAB: I know customers will always find something to grumble about but I think they all appreciate how APBA Company representatives (particularly Marc Rinaldi) keep in touch with them on the APBA forum. Will the Company continue to use social media (Facebook, Twitter etc.) to increase its presence among the APBA community?
JH: Yes APBA will continue to expand its presence on Facebook and Twitter.  One reason is to attract new fans.  Secondly. many APBA fans are using these new technologies.
One thing APBA fans can do to help APBA keep in touch with them is to be polite to each other.  The tone on some of the threads at Between the Line confuses me.  You "play" APBA.  This is something you choose to do with your free time.  You do not "work" at APBA.  If you are playing, you are having fun.  The tone, the lack of respect and rudeness of some posters on the forum bothers me.  You can disagree with some one but still be respectful and polite to that person.
At the beginning of every year a lot of us customers get anxious (sometimes bordering on impatient) about when the new APBA card sets will be coming out. Can you briefly give us an idea of what it takes for the APBA Company to put out a current set of cards?
This is the timeline for the annual current season set.  in mid-September, Skeet selects the players for each team.  After the season is completed, card preparation begins with the gathering of all necessary statistics and player information.
After the statistics and player information file is completed, the actual cards are prepared.  This process takes six weeks or so.  The card file is not completed until after the World Series ends.  A player's card will be amended for certain post-season results.  For example, Joey Blanton hit a playoff home run several years ago.  Since Blanton had not hit a home run in the regular season, his card was amended for the post-season home run.
After the card file is completed and reviewed. the card file is sent to the printer.   We are now in mid-November.  At this time, the line-up and master symbol sheets are also sent to the printer.
The printer needs a month to prepare the proofs of the cards, line-up and master symbol sheets.   After APBA approves the proofs, the printing begins.  Since the printer closes for the week between Christmas and New Years,  APBA does not receive any cards from the printer until after the first of the year.
For this reason, APBA now focuses on shipping cards the first week of January.
TAB: How does APBA determine what past seasons will become available each year? Do those sets continue to be good sellers with APBA fans? Have any seasons been wildly popular?
JH: APBA maintains a file of all season requests received from APBA fans.  Periodically, APBA will request fan input.  APBA will complete the gap of 20th century seasons.  A new never released season will be offered later this year.  The 1995 baseball season is now at the printer.
Seasons with a lot of offense are the best sellers.  The  1950s and 60s seasons are the most requested.
The APBA Company is in the process of releasing a Pro Soccer Game. Was this just one more tabletop sport to add to the others or was there added incentive to bring on this particular sport?APBA wanted to offer soccer to reach new fans, domestically and internationally.  Soccer video games outsell American football games in the United State.  Soccer has many important leagues and international competitions to offer as card sets.  Future card sets will including women's teams.
TAB: Are any products or past seasons coming down the pipeline that you can talk about? Any new computer games coming soon?
JH: The 1995 baseball season should be released in late April.
A new golf course Magnolia was released this week.
The 2009-10 Italian Series A and Spanish Primera Division card sets are now available,
A new computer baseball game product,  City's Best  disk,will be offered in April.  These disks include a city's best baseball teams regardless of franchise or league. For example, the New York City disk includes a Negro League team, the Brooklyn Dodgers, New York Giants, New York Mets and of course the New York Yankees teams.
I've learned the hard way not to discuss future game releases or future computer games.  I can say that APBA is looking at offering at least one new board game this year.  APBA has several software development projects on-going.  At this time. I'm not prepared to say any more on this.
TAB: This is a question I've always wondered about… do any of the APBA employees play competitively in APBA leagues?
JH: Skeet and Veryl are in a face to face baseball league in Lancaster.  Skeet is also in a football league.  Veryl does many solitaire replays.  Veryl has a special area in the warehouse where he plays games.
I do "what-if" replays.  What if  there was still two eight team leagues.  What if African Americans played sooner in MLB.  What if this player signed with the team that initially drafted him.
TAB: Finally, how many at the APBA Game Company know the "secret APBA Card Formula"? IS there a "secret APBA Card Formula"?
JH: There are two people that know the APBA card formulas for each game.  I would like to think the card formula is secret but most of the elements of the card formula have been reversed engineered.
---
Thanks to APBA CEO John Herson for taking the time to asking these questions.  I can tell a lot of time and thought was put into them.
As I mentioned, he suggested that we do another Q&A on a regular basis.  When the next time comes, I'll put out a request for serious questions for John from any and all APBA fans.