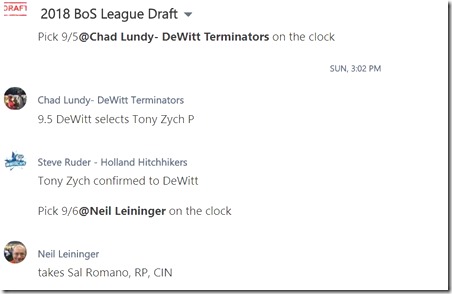 On Sunday, the Boys of Summer APBA League conducted their 2018 draft.  The BOS league is a 16-team which uses APBA Baseball for Windows.  Put very simply, the rules of the drafts are any player that isn't already on a BOS team is eligible to be picked.
Thanks to Brad Stark and Steve Ruder for putting in the effort to making this an efficiently-run draft.  We were able to get through 12 rounds for all 16 teams (not to mention a few trades in the midst of the draft) in the course of five hours.
If you're wondering, the league used an online collaboration tool called GroupMe.  For my opinion, it worked well for conducting our draft.  The BOS set up a chat room stricktly for the draft announcements and another one for chatting between managers.
One feature of GroupMe is that it will text you EVERYTIME someone submits a chat message.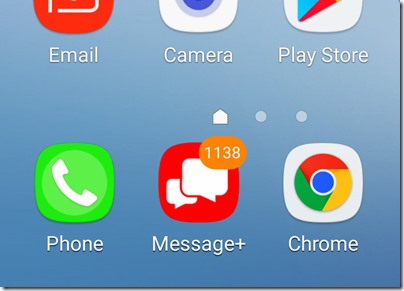 I don't think I need that enabled anymore.  Although, I may leave it to show people how popular I am.
Anyway, you're here to see who the top picks were.  Here is how the first round of the 2018 Boys of Summer APBA League went:
Pick
Team
Selection

1

Brooklyn

Cody Bellinger

1B

2

Micatin

Ian Happ

2B/OF

3

Swatara

Rhys Hoskins

1B/OF

4

Portland

Victor Robles

OF

5

DeWitt

Kyle Freeland

SP

6

Holland

Ozzie Albies

2B

7

Buffalo

Paul DeJong

2B/SS

8

Urbana

Charlie Morton

SP

9

Swatara (from Spring Branch)

Luis Castillo

SP

10

Vancouver

Rafael Devers

3B

11

Traverse City

Zack Godley

SP

12

Corktown

Amed Rosario

 

SS

13

Fairgrove

Archie Bradley

RP

14

Swatara (from Seattle)

Lewis Brinson

OF

15

King Road

Eddie Rosario

OF

16

South Side

JP Crawford

SS
There weren't too many surprises, especially Bellinger's and Happ's picks.
Thanks again to Brad and Steve as well as the whole league.  The draft went fantastic!