This past weekend at the Comfort Inn in Downers Grove, the ten managers of the Illowa APBA League got together and we finished our post season for the 2012, conducted our 2013 draft and started our new season by each playing the first thirty games of the season. 
Here are a few photos from the weekend…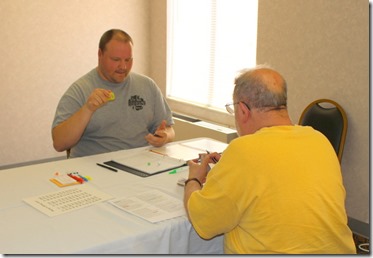 Marcus Bunch and John Brandeberry in round one of the playoffs
John Brandeberry and his Rising Bamm Beanos made quick work of Marcus Bunch and his Moline Upperdeckers, sweeping them three games.  When Chipper Jones hit a grand slam for Mark in game one, we thought it might be an easy series for him.  All those runs were unearned, and the Beanos' starter Nova advanced to win and the Beanos never looked back. 
New manager John Heneghan had a tough first job.  He had to face Todd Ventresca and the Three Rivers Gamblers in the playoffs.  He did ok lasting six games but the Gamblers prevailed.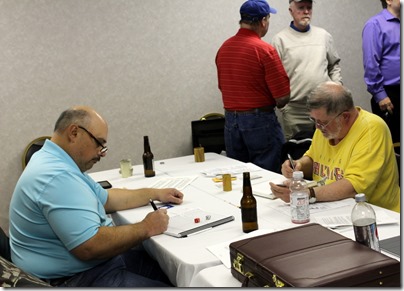 Todd Ventresca and John Brandeberry dueling in the IAL World Series
Todd and the Gamblers never looked back as they continued to win going into the World Series.  The Beanos managed to win one game but the Gamblers dominated and Todd Ventresca won his third IAL Championship.  Congrats, Todd!!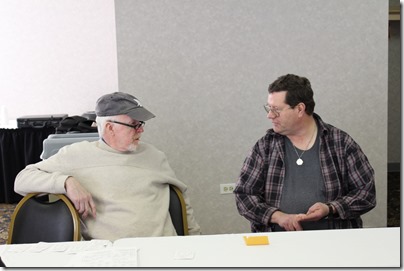 Mike Bunch (right) goes over some league rules with new manager John Heneghan
Our league meeting lasted for less than a half hour and was not as painful than most make it out to be.  With everyone in town on Friday, we decided to draft that night. 
The big surprise to those not in our league… Bryce Harper was not the first pick.  Because of our league eligibility rules, Mike Trout was not in our 2012 draft and was now eligible to be drafted.  Northside Hitmen manager Chuck Lucas decided on Trout.  It wasn't a big surprise when Molly Putts Marauders skipper then took Harper.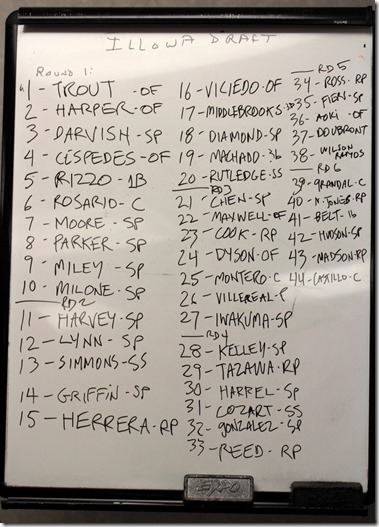 The 2013 IAL Draft
There were a ton of quality pitchers in the draft.  I happened to be one of the managers looking for pitching.  As it happened, there happened to be a run on starting pitchers beginning with pick #6 when Mike Moore was chosen.  It wasn't until six picks later when the shortstop Simmons was picked that the run was broken.  I was beginning to worry.  As it turned out, I was able to get Scott Diamond (BZ) as late as the 18th pick. 
You can see the full draft in the photo above but here are top five:
Trout
Harper
Darvish
Cespedes
Rizzo
Starting to play the 2013 season late Friday night
We got done with the 2013 draft by 11:00pm Friday and a few managers were ready to play.  Others waited till Saturday morning so they could be fresh and awake.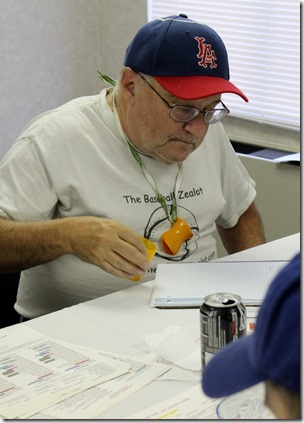 Molly Putts Marauders manager Don Smith and his famous Duck Call around his neck
How did my Thunderchickens do over the weekend?  Well, we were holding our own and through 24 games.  At that point, we were 12-12.  Then on Sunday, we got to play Keith Smith and his Kentucky Kernels.  Even without Ryan Howard, he did us in.  After the first five games we won just one game.  We decided we go with the rookie, Scott Diamond.  So far this year, Scott was 5-0 with two shutouts and even brought a no-hitter into the seventh inning. 
Well, Scott Diamond did his job.  We had a one run lead going into the bottom of the ninth inning and we brought in newly-acquired Jonathan Papelbon to close out the game.  'Pap' had blown his previous two chances but we had confidence in him.  I probably shouldn't have.  A Kentucky Kernel two-run homerun later, we were running home with a 1-5 series loss against the Kernels and a 13-17 record for the weekend. 
Sorry, Scott.  I should have just left you in. 
Despite the lackluster start, I had a fun time.  Here are some other photos I took over the weekend.  Thanks to Mike Bunch and Rob Moore for making this a great weekend!!