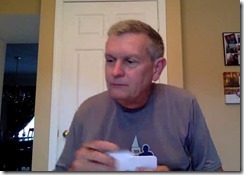 Today, the mentor returned to teach the apprentice a lesson. 
The Illowa APBA League is happy to welcome back Dennis Jennings as a co-manager of the Colona Hustlers.  Dennis helped found the Illowa APBA League in 1975 and is returning to the league after a 28 year hiatus. 
You may recognize the name of his former team.  It's the Twin City Thunderchickens. 
How did I end up with the Twin City Thunderchickens?  It's a sordid history involving me going off to college, sowing my wild oats and falling off the grid.  A girl may have been involved (I know better now, guys). 
When I came to my senses a year or two later in 1989, Dennis had moved out of state and there was need for a manager to take over his team, the Twin City Thunderchickens.  The IAL managers graciously let me in and I have faithfully served as a IAL manager since.  I didn't have the heart to change the Thunderchicken name since it is one of most original names I know of. 
When I knew him, he was a brilliant professor at the University of Illinois where I was a student.  While his professional knowledge of math and statistics served him well in APBA, he was still laid back and a genuinely a nice guy.  He was also a successful APBA manager.  He built up a APBA dynasty of solid hitting and pitching plus outstanding defense.  His mainstays were Sundberg, Garvey, Grich, Baines and Gibson.  Dennis placed first in the IAL standings SEVEN times between 1976-1988 including a then record of 115 wins in 1985. 
Now Dennis is back and has more time for APBA.  He faced off against me and his old team as co-manager of the Colona Hustlers(along with his partner Dan Bunch).  We played remotely as Dennis is I believe the winning common denominator here was Dennis as it was he who won six out of nine games.  Not surprisingly, Dennis commented on the Hustlers' good defense.  In fairness, Jose Altuve's good bat probably a lot too.  My Thunderchickens tried their best to make a good impression on their old owner.  The team hit 15 homers including 5 by Asdrubal Cabrera in the first six games.  
Regardless of the score, it was great to play an old friend even it was over Skype.  Dennis seemed to have a lot of fun rediscovering the game and its new changes.  Afterwards, we chatted about old times.  It was Dennis who drafted Mark McGwire who had a very storied career for my Thunderchickens. 
Sorry Dennis, your Thunderchickens.