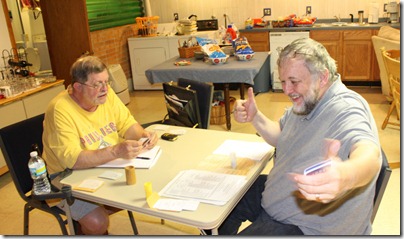 Host John Brandeberry and his Rising Bamm Beanos take on Chuck Lucas' Northside Hitmen
This weekend is the Illowa APBA League's Spring Convention (held a bit late).  This year, it's being held in Champaign, Illinois which is just right across town from my town of Urbana.  Right now, it's 1:30am Saturday morning and games have pretty much have finished for the night.  Most managers have gone to bed to rest up for more games tomorrow.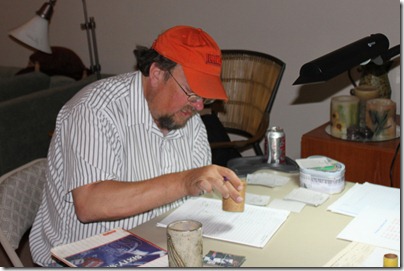 Trying to coax a 66 out of my dice cup in series #2
My Twin City Thunderchickens have had some excitement tonight.  First, after coming in to the weekend at 9-30, we can now count on wins on our fingers AND our toes.  We managed to win a series 4-2 (and lost one 1-5) so now we're  14-37 which sounds a whole lot more respectable.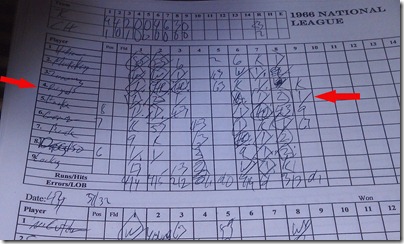 Pujols:  7 for 7
We had our hitting shoes on for our series against the Chicago Highlanders.  Our big win was Game Four which we won 23-2.  In that game, Ryan Zimmerman drove in seven runs with two homeruns and Albert Pujols went 7 for 7 with 2 doubles and a homer.  Daniel Descalso's effort was overshadowed.  He went 5 for 6 with two doubles and three rbis.  Eric Hinske's performance was also notable.  He was 4 for 7 with a homerun and five rbis.  Yes, all of this was in one game. 
We're not sure yet but Pujols' 7 for 7 performance may be an Illowa APBA League record for most hits in a game.  We don't have a database to check on so we're only going on anecdotal evidence.   So far no one claims to remember any instance of a league hitter getting seven hits.
If that weren't enough, Troy Tulowitzski got into the action two games later by hitting three homeruns in Game Six of our series.  We won that game 7-2. 
Tomorrow things will start right back up with more regular season play for the Illowa APBA League.  But first things first.  We'll be getting some breakfast. 
It's late, I'm going to bed soon.