The Illowa APBA Spring Convention wrapped up last night in Champaign, Illinois.  I got a total of 21 games played for my Twin City Thunderchickens and went 8-13.  Ok, not a great record but considering we went into the weekend with only 9 wins, I'll take it.  And we proved that we could roll the bones as I noted in my Friday night article.
It's still unclear to me who the weekend's big winners are but my guess is that it's Tedd Mallasch's Chicago Champions who took 5 out of 6 from me.  
The one notable game on Saturday was against Keith Smith's Kentucky Kernels.  I had Jeff Niemann (Cyz) going and he had Mike Leake (Cz) on the mound.  After a full nine innings, it was still 0-0 and both had upgraded to As by then.  Two innings later, still nothing-nothing but Niemann and Leake were both gone in favor of pinch hitters.  In the bottom of the 12th, Aaron Crow (A*xw), who still needs to get on board with the "no walks" thing, gave up quick two infield hits.  Then the best infielder on my team, Troy "SS-10" Tulowitzki booted a ball to help the Kernels score the winning run.  We ended up splitting with the Kernels 3-3.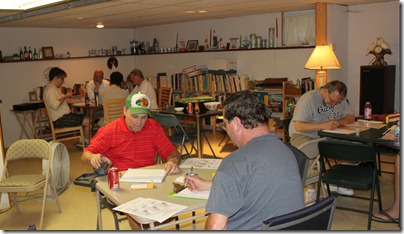 It was nice to get a couple visitors to the weekend.  Channing Paluck who I've been in contact with via the blog, stopped by and brought his friend Nick.  Channing actually emailed me a week or so ago and asked about any Strato players in town.  Now I did joke about "well, what about APBA?" but I did the principled thing and hooked him up with Brando who is in our APBA league but also dabbles in SOM.  As it turned out, Brando invited Channing to the IAL weekend and we were happy to have him.  An APBA league get together is probably a bit overwhelming for someone new to tabletop baseball but I think he got a sense of the intensity of game to say the least. 
No doubt, you will see a Tyler Colvin Watch article sometime soon.  Don't expect great things from Mr Colvin this month though.  His bat was a little lame.