It's been a while since I reported about my Twin City Thunderchickens.  As it is, my Illowa APBA League team played their final series of the 2017 season this past week.  Going into the last month, Twin City was 71-82 and in 7th place (in a 10-team league).
Well, commissioner Mike Bunch and his Green Rock Bombers bore the brunt of a 7-2 beating by the Chickens in the 9-game series.  My Thunderchickens tend to have a habit of coming on strong late in the season, alas too late.
My finish of 78-84 was a moral victory.  Depending on how the Chicago Highlanders did in January, I may have even skipped over them and hurt my draft chances but I'll enjoy it.  Landing in last place two years in a row will do that to a manager.
A few highlights and stats of note from the 2017 season
Let's start with hitting
Kris Bryant hit his 30th homer in the last series of the season and just missed the century mark in runs scored with 99.  He led the team in doubles with 42 but his batting average of .247 was a little lacking.
We had plenty of sluggers on the team (such as Bryant) but the rbi leader was a little surprising.  First baseman Eric Hosmer who had power numbers 1-0-0 and a 22-7 led all Chix with 83 runs driven in.  He batted .208 but his timely 26 homers helped the team.  It also helped that he played every game.
We had two starters who batted .300 which is rare for our pitching-rich league.  While overall #1 draft pick Trea Turner was limited, he managed to get in 307 at-bats and still come in second in steals with 32.  He hit .300 on the nose.  He had a bit of power too.  Trea hit 9 homers and 21 doubles.
Some may consider the trade for Wilson Ramos a "rent-a-player" deal but boy, that card was fun to play.  The Catcher-8 was 1-5-6 with a 55-7.  He led all T-Chix with a .302 batting average.
One of the strangest offensive stats:  Guess who had the most hitting strikeouts?  Bryant?  Joc Pederson?  Nope.  Free swinging Jason Kipnis who had only six 13s on his card led with 156 whiffs.
Finally on the offensive side, I gotta give rookie Brandon Drury some props.  In over 100 at-bats less than Bryant, he came within three rbis of him (70).  That's third best on the team.  He also hit a solid .258.
Pitching
The top winner on the Thunderchicken pitching staff was Tanner Roark (go Illini!).  Roark won his last in a complete game in the last series checking out at 13-12 with a 3.81 ERA.  Roark also paced the Chix with 173 strikeouts even beating out BXY Stephen Strasburg.  Strasburg did well when he pitched at 2.76 but either didn't get the support he needed (8-8) or the playing time.
Iowan Jeremy Hellickson did pretty well for a CYZ.  For the year, he went 12-9 with a respectable 3.86 ERA.  Rookie Junior Guerra did his job too.  His 7-7 record was not his fault attested by his 3.34 ERA.  The same can be said for the other rookie hurler, Tyler Anderson (7-5, 3.47).
If we're looking for someone to point fingers at, Frank Liriano (CXW) didn't pan out at 5-11.  Lance McCullers (BXYW) didn't fare much better with a 5-6 record and a 5.62 ERA.  I see a pattern here.  The W will always hurt.
Essentially, most of our starters did their jobs however the bullpen let us down.  Closer Jeurys Famila (AX*) collected 24 saves but went 3-11.  I don't keep blown saves but I can only imagine how many Familia had.  Zack Putnam (BX*)was no help with a 6.85 ERA.
But you know what baffles me?  Mop-up man/spot starter Jon Niese sported a nifty 3.89 ERA as a Grade D pitcher over 125 innings.  He had a better ERA than Liriano (CXW), McCullers (BXYW), Putnam (BX*), and Robbie Ross (BX*).
Wrap-up
No complaints here.  Not only did we compete but we also had fun.  The boys hit and the pitchers pitched.  This is probably the the first time I led off with a card with a single column 5.  Trea Turner just seemed fit for the role and as it turned out, he responded well.  Since Turner was so limited and our league restricts players to their actual playing time, I decided to rest that monster card till the second half of the season.
Twin City Player of the Year 2017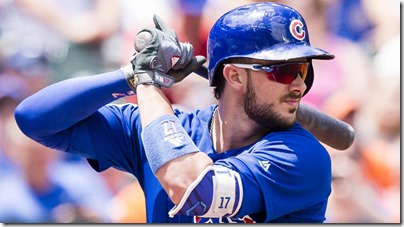 Kris Bryant 42 doubles, 30 homers, 99 runs
A tough choice.  Bryant underperformed but no Thunderchicken came close to his 75 extra-base hits.
Twin City Pitcher of the Year 2017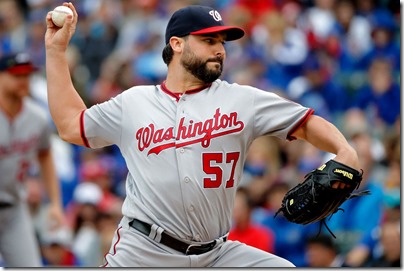 Tanner Roark 13-12 3.86 ERA 173 strikeouts
This was a no-brainer as Tanner led the team in wins, ERA and Ks.
Finally, I want to congratulate my John "Brando" Brandeberry whose Missoula Rattlesnakes will presumably finish in first place in the Illowa APBA League!  Miss ya, buddy!