The Beefers (2-1) piled up 30 hits and 10 home runs in a record-setting 27-3 runaway win over the Taz Devils (1-2) in the league's first season of the 2018 campaign.
The Beefs started the carnage in the top of the first, pushing over six runs against Devils starter Drew Pomeranz. Justin Turner homered to add run another in the third. The Beefers then pounded Pomeranz for nine more runs in the fourth, with 2b Jose Ramirez homering twice in the inning, including a grand slam home run, to drive in six runs in the inning, to give the Beefs a16-0 lead after four innings.
Even after Pomeranz mercifully departed the mound, the Beefs went on to score another 11 runs, finishing off with four runs each of the final two innings as Devils infielder Scooter Gennett took over pitching duties to preserve the Devils bullpen.
When the dust finally settled, Beefer 3b Justin Turner finished with a league record-tying four home runs and seven RBIs , 2b Jose Ramirez went 5-7 with two home runs, RF J.D. Martinez slugged two homers and drove in six runs, while SS Carlos Correa and 1b Eric Hosmer both belted solo blasts. Beefer starter Corey Kluber, who gave up only four hits and three runs, even got into the act, going 4-6, scoring a run and driving in a run. LF Kris Bryant and C Willson Contreras also notched four hits
Pomeranz, who ran into the Beefer hurricane in the first four innings, gave up 15 hits and 16 runs, all earned, including six home runs. He also walked six batters.
[click to enlarge Beefy box score]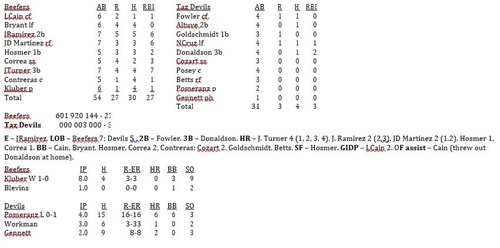 Team records for single game
Beefers 54 AB: previous record 49, Beefs v Juggernauts, G 66, 1999 Beefers base hits, 30, previous record 24, Beefers v Juggernauts, 1999 Beefers singles in one game 20. No previous record recorded.
Combined base hits 34 (Beefers 30, Devils 4); previous record 33 Beefs v Juggernauts, G 66, 1999 (Beefs 25 hits, Juggernauts 8 hits)
Beefers runs scored, 27; previous record 22, Beefs v Bombers, G 13, 2000
Combined runs scored both teams, 30; previous record Highlanders 15, Platoon 13, 1998
Team records tied for single game
Most HR in one inning 3; seven previous times, most recent Beefers v Platoon, G 62, 2009 (Adrian Gonzalez, Ryan Ludwick, Curtis Granderson consecutive)
Individual records for single game
Jose Ramirez, RBIs in a single inning 6; previous record 4 by many
Individual records tied for a single game
Justin Turner 4 home runs; previous Rondell White, Crusaders v Devils, 1998, Barry Bonds, Highlanders v Platoon, G 31, 2002 Kris Bryant and Jose Ramirez, 2 base hits in a single inning; most recent Giancarlo Stanton Whats v Piranhas, 7th inning, G7, 2013 Jose Ramirez, most runs scored in a single game 5; most recent D. J. LeMahieu, Beefs v What, G 69, 2017