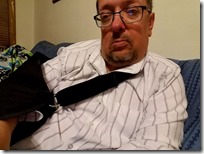 I'm kinda bummed.  I was really looking forward to this weekend.  The Illowa APBA League is getting together for its annual Spring get-together in the Quad Cities starting tomorrow.  Unfortunately due to an incident resulting in a broken clavicle and a trip to the ER, I'm not going to make it.  And yes, this time it's my rolling arm. Double whammy! 
I had planned to come a couple days early to play some May series against the Bunch brothers, Marcus and Dan.  In total, I had planned to play 48 games. 
In a way, this weekend was going to be a bit of a homecoming.  I had planned to stay with commish Mike Bunch's house.  That house hosted my first draft when I first joined the league at age 16.  As a sophomore in high school, I joined the IAL and really didn't know how leagues worked.  Marcus was just a baby back then and I'm not sure Dan was even born yet.  Now, they are fine gentlemen and formidable APBA managers.  The year was 1982 and my first rookie draft picks were Dave Smith and Tommy Herr.  Not too bad for a first-time manager.
Well it's 35 years later and I was looking forward to hanging out with the Bunches a little (Mike has a very extensive APBA baseball card collection).  If I'm lucky and I'm feeling better, I'll try to Skype as many series as I can.  Right now, the wing is feeling pretty sore just from typing this (those of you who have ever broken your collar bone will remember how painful it is).  May need some rehab for dice-rolling. 
Guys, I'll be missing you this weekend.  Good luck in all your games.