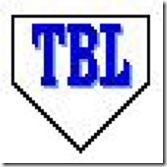 For your reading benefit, I submit the Transcontinental Baseball League's Annual publication courtesy of TBL manager and Annual editor Walter Hunt.  The TBL Baseball Annual is one the best testaments to APBA league play and honestly rivals most of the publications that cover MLB. 
The 134-page Annual is written with statistical analysis, comprehensive writeups and a dose of humor to keep it real.  This year's edition reveals that the TBL will be going through a realignment.  Big news for a league that has been around as long as the TBL. 
The TBL Baseball Annual is APBA League documentation done right.  It's almost as if Walter Hunt had experience as a writer or something. 
Great job, TBL!