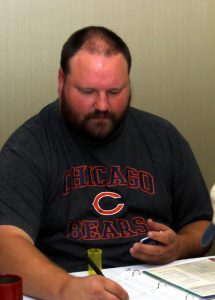 It's Thanksgiving holiday and I'm visiting my family in Quad Cities area.  So what do I do on Black Friday while my wife and daughter go shopping?  Play APBA, of course!
The first place Moline Upperdeckers were on the Illowa APBA League schedule for November so manager Marcus Bunch (left) came out to the cabin we were staying at and we spent the afternoon playing our 9-game series.  I ended up winning six of the nine games.  That pretty much assures that I won't get the first pick in the 2018 rookie draft.  That thrills me to no end.  For once, I would like someone else to have that honor.
But that is not what this is about.  This is about Game #2 of this series.  I can't think of more strange and exciting game that I had played.  Marcus had Marcus Stroman (a CY) on the mound.  For my Thunderchickens, I had Francisco Liriano, a CXW pitcher.
Liriano only lasted a third of an inning though it seemed forever.  Perhaps it's because he saw nine batters.  He gave up two homers and only one out.  After giving up a walk to pitcher Stroman, I yanked him in favor of my mop-up man Eduardo Rodriguez.  Boom!  Khris Davis hits his second homer of the inning.
I haven't batted yet and by the time the inning is over, the Thunderchickens are down 10-0.
I resigned myself that this is one of those games that I will slog through.  Get it over and let's try to win the next one.  But wait… my Thunderchickens have their hitting shoes on, too.  They bat around the order in the first inning and thanks to homers by Asdrubal Cabrera and Eric Hosmer, we score six runs.  At 10-6, it's almost a game again!
In the second, we hit back-to-back homers by rookie Brandon Drury and Cabrera (again).  It's now 10-9 and we pull within one.  In the 5th, Joc Pederson walks and steals second (14*).  After being grounded over to third, I roll a 13 on Wilson Ramos.  I think "Oh good, a walk" until I check his card.
It's a 13-36.  Wild pitch.  Runner scores and it's a tie game 10-10!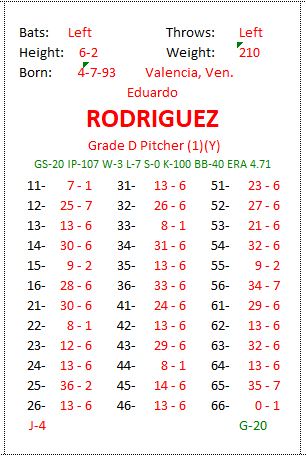 Meanwhile, my mop-up man Eduardo Rodriguez has settled down from the first inning.  In fact, he pitching the game of his career.  He doesn't allow a run for nine straight innings.  He's throwing hard, too.  Rodriguez struck out 14 Upperdecker batters.  In ten straight Upperdecker at-bats, he struck out nine (the other was a walk, c'mon Blue!).
My fatal decision probably came in the bottom of the 10th.  If you're doing your math, you know that the game went into extra innings so that means my Thunderchickens weren't scoring either.  Rodriguez, of course, had advanced and had been an A pitcher for a couple innings.  E-Rod was up to bat and I decided to pinch hit for him.  Nothing came of that and I brought in Jeurys Familia, an AX.  Despite that Grade A, Familia was 2-9 with a 4.00 plus ERA going into that series.  In hindsight, E-Rod should have stayed in.
Two innings later, in the top of the 12th, Familia was still on the mound.  With two outs Melvin Upton was called on to pinch hit.  He slammed a two-run homer to take a 12-10 lead.  Marcus had a depleted bullpen so he went to a D pitcher, Michael Wacha.  The Thunderchickens could not respond and went down 1-2-3.
Familia's loss is his 10th of the year for Twin City (2-10). Marcus tells me that this is Wacha's first career IAL save and will probably be is last.
Final score:  Moline Upperdeckers 12 Twin City Thunderchickens 10