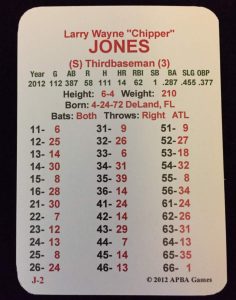 Baseball has been good to me. It gave me great enjoyment growing up, as I played it in backyards, little league fields, and through high school. After high school, it gave me money (and still enjoyment), first as a high school coach, and then as an umpire. Along the way (1983), I was introduced to APBA baseball, which sparked my fascination with the history of the game. Since that time, I've been lucky enough to visit all the current Major League stadiums (and several that are no longer with us) and connect the moments of my life with historic baseball milestones.  When I first started watching baseball, many of the veteran players were my father's age and nearing the ends of their careers.  Before I knew it, players were my age. And now, unbelievably, young call-ups could be my son.  Boy, life goes by quickly.
Recently, the Baseball Hall of Fame announced the 2018 inductees. Chipper Jones deservedly made the Hall on his first ballot. When I searched through my 2012 APBA set for his final card, my eyes weren't drawn to his 66-1; my eyes were drawn to his birthdate…4-24-72…sixteen days before mine. When did guys MY age start getting inducted into the Hall of Fame? I thought it was for older guys, like a couple of my boyhood idols, Alan Trammell and Jack Morris. Nevertheless, I plan to travel to Cooperstown, for my second induction weekend, to see my Tigers, Chipper, Vladimir Guerrero, Jim Thome, and Trevor Hoffman enshrined into the best sports hall of fame in the world.
I've had the privilege of watching thirty-three Baseball Hall of Famers play in person. Chipper Jones was my most recent, on April 3, 2011, when the Braves visited the Nationals. Jones went one for four with a double, walk, and RBI.  Nothing extraordinary, just consistent and good. Except for a couple of outstanding seasons, that's what Jones was for nineteen years. His average 162 game season was a .303 average, 30 home runs, and 105 runs batted in.  If you can average that for nineteen campaigns, you're a first ballot Hall of Famer. Not surprisingly, Jones was a productive player, even in his last season, and his final APBA card reflects it.
Season Totals

| Split | G | PA | AB | R | H | 2B | 3B | HR | RBI | SB | BB | SO | BA | OBP | SLG | OPS | TB | GDP | SF | IBB |
| --- | --- | --- | --- | --- | --- | --- | --- | --- | --- | --- | --- | --- | --- | --- | --- | --- | --- | --- | --- | --- |
| 2012 Totals | 112 | 448 | 387 | 58 | 111 | 23 | 0 | 14 | 62 | 1 | 57 | 51 | .287 | .377 | .455 | .832 | 176 | 15 | 3 | 6 |
Overall, this is a solid, middle of the lineup, final card for Jones. Jones hit cleanup for most of the season, and hit between second and sixth in the lineup for all of his starts.  The 6-6-1 should produce solid power numbers and the 22 & 44 7s will allow Jones to produce against ace pitchers.  Upon closer analysis, this card should produce a .281 average, not the .287 Jones hit. If it had an extra 14, it could produce a .291 mark. However, Chipper only drew 57 walks in 2012, so four 14s seems fair. It's probably better to error on the side of caution rather than produce a card that isn't reflective of the players performance. However, the dice will need to roll in Jones's favor him to hit .287.
This card helped Chipper Jones reach several impressive milestone in 2012. In September, Jones recorded his 1,500th walk in a game and became the first switch hitter in Major League history to get at least 2,500 hits, 1,500 RBI, 1,500 runs and 1,500 base on balls.  Also in 2012, Jones joined Babe Ruth, Ted Williams, Lou Gehrig, and Stan Musial as the only players in history with at least 2,500 hits, 1,500 runs, 500 doubles, 450 home runs, 1,500 RBI and 1,500 walks, while also having a career .300 average, .400 OBP, and .500 SLG. Impressive.
As I've grown older, I mark the moments of my life with baseball. For example, when I saw that Chipper Jones was drafted in 1990, I thought about how I was finishing high school. When I saw an old clip of Chipper Jones in the 1995 World Series, I thought about how I'd recently graduated from college and had gotten married that year.  Finally, when I saw that Chipper Jones was elected into the Baseball Hall of Fame, I thought about how old I'm getting.