Some fans at the time who saw both Ruth and Gibson play called Ruth "the white Josh Gibson".
I have been to the town of Pittsburgh several times in past years for various reasons.  Every time I visit and no matter what the reason, I find myself drawn to its sport related landmarks.
It's not hard.  Pittsburgh is a great town and a great town for sports.  I would go as far to say that it's one of all around best sports town to visit.  During my trip to the APBA convention with my buddy Brando, we stopped by to see the Pirates play at the (then new) PNC Park.  A few years ago, I checked out the remains of Forbes Field at University of Pittsburgh.  During my last visit, I re-visited the Forbes site and found the grave of all-time great Honus Wagner.
So what's left to do in Pittsburgh? Well, plenty.
I found out that Negro League great, Josh Gibson is buried at Allegheny Cemetery in Pittsburgh.  We took a drive to the cemetery and after driving around, we finally found it.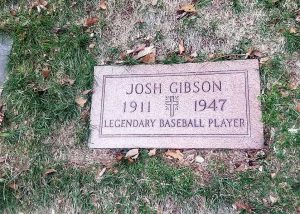 The flat tombstone at the top of a very steep hill simply says…
"Josh Gibson

1911-1947

Legendary Baseball Player"
The gravestone looked relatively new and honestly, I wondered about the wording "Legendary" being used to describe a black man in the 1940s.  With a friend, I did some research and came up with this (emphasis mine):
"While at the height of his power, disaster struck again, as doctors found a tumor in Gibson's brain, after he fell into a coma. For the next four years he struggled with the illness and other problems, succumbing to a stroke on the 20th of January, 1947. He died so poor that his grave remained unmarked for almost 30 years."
Gibson is reported to hit between 800-1000 homers in his career.  He also has a really awesome APBA card.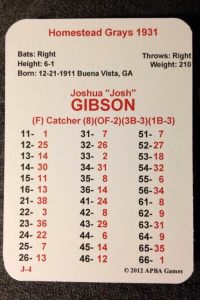 He deserved a better fate and certainly more remembrance.  Fortunately, he now has a gravestone that bears his name.
Steelers clinch!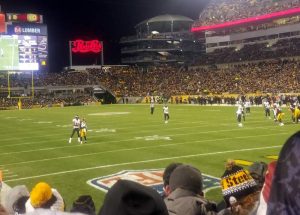 Our hosts, Dave and Maria have Steelers season tickets and as it happens the Ravens were in town. Maria graciously gave up her ticket to me so I could attend my first NFL game ever!  She even lent me a Franco Harris jersey to wear.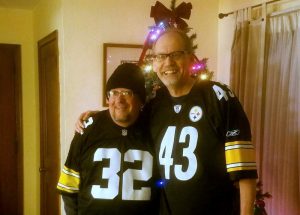 I couldn't pick a better venue or a better game.  Like I said, Pittsburgh fans are really into their sports and the excitement was electric.  The Steelers put on a great show with a comeback win in the last minute to clinch the AFC North by the score of 39-38.  I could almost hear Maria who was yelling at the refs on TV.
I'm sure I'll be going back to Pittsburgh sometime soon.  Anything else I should see or attend?