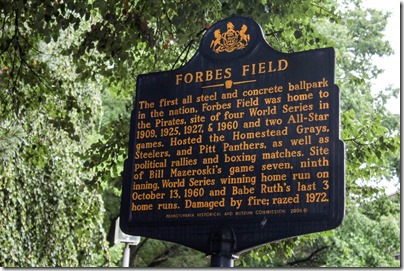 Four and half years ago, I visited Pittsburgh and while there, I took some time to take in some baseball related sites.  This past weekend, I went to P-burgh again on a last minute trip with my daughter.  Well, I can't stay away from anything that is baseball related especially when I'm in a baseball-rich town like Pittsburgh. 
Forbes Field
I have a old college friend who works at the Carnegie Library.  That's only two blocks away from the old Forbes Field location.  I just can't be that close to baseball history and not go see it again.  My friend Dave and his wife, Maria are both baseball fans so they made perfect tour guides of the historical Pittsburgh Pirates stadium location.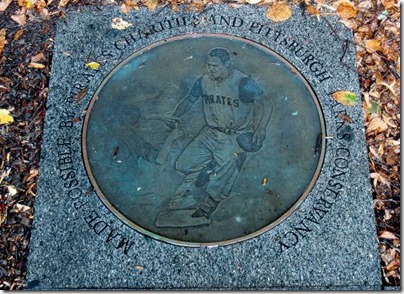 The centerfield and right field walls are the only ones still standing today.  I did notice that right field wall was covered in greenery mostly due to the fact that I am visiting in the summer (compared to winter as I did last time).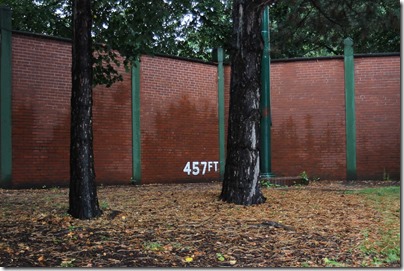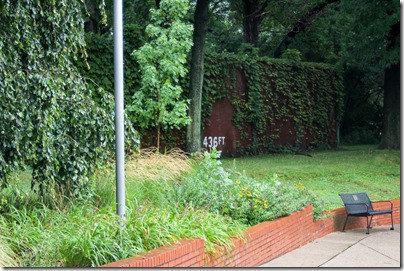 What I did not notice in 2012 (and thanks to Dave and Maria for pointing it out) was that there was an inlaid brick line in the sidewalk representing the outfield wall of Forbes Field.  In addition, there was a plaque in the sidewalk showing exactly where Mazeroski's famous 1960 World Series homerun went over the wall. 
Now, that's a homerun that Pittsburgh baseball fans will never forget.  As I mentioned before, each year on the anniversary of the homerun, baseball fans gather on that spot to listen to the recording of Game Seven of that game.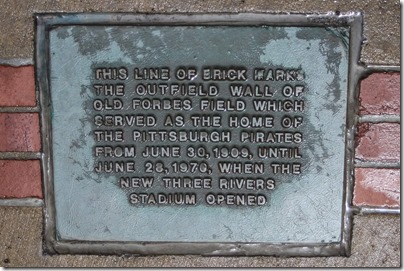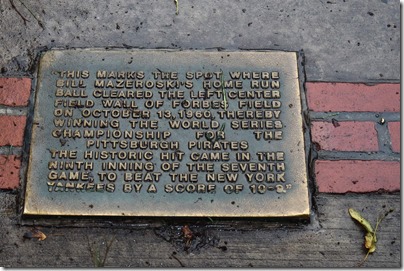 The home plate of Forbes Field has been preserved in its actual location in University of Pittsburgh's Posvar Hall.  The original home plate is encased in the floor of the hallway for the public to see.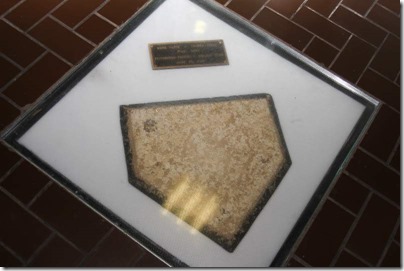 Ok, it was Maria's idea for this next photo…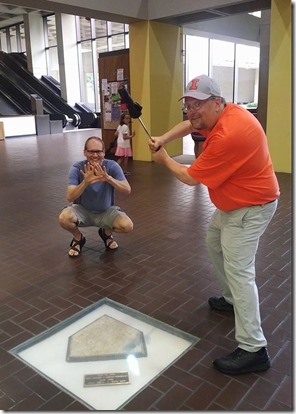 "C'mon you guys!  Take my umbrella.  One of you can be the catcher, the other can be the batter", says Maria. 
We were reluctant at first but eventually we got into character.  It turned out to be a really fun idea.  Dave joked he should have called for an intentional walk. 
Honus Wagner's gravesite
Don't tell my daughter but I had it in the back of mind to go see the gravestone of Honus Wagner while we were in Pittsburgh.  He was after all, one of the best all-around baseball players of all time and still considered a legend in Pittsburgh.  The person staffing the office at Jefferson Memorial Park was being very helpful but couldn't find Honus Wagner (hint: I should have asked for John Wagner).  She did find his wife Bessie, though.  I did corroborate her info via this page on Findagrave.com which is helpful. 
Jefferson Memorial Park is a beautifully-maintained cemetery and like a lot of the Pittsburgh area, has rolling hills.  Once we got to the general area of Wagner's grave, it didn't take too much to spot it.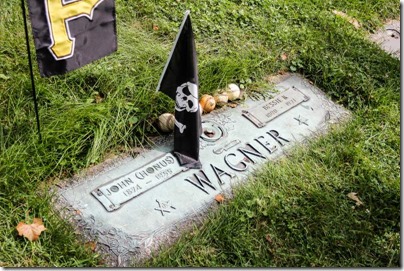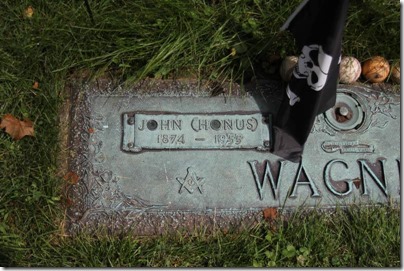 Fans had adorned the gravestone with a Pirates flag and a skull and crossbones banner as well as several baseballs.  I searched my bag in vain for dice and a cup to leave as a tribute but no such luck. 
Pittsburgh is such an all-around awesome town with a lot to do.  Thanks to Dave and Maria for being great hosts and apologies to my daughter for putting up with my baseball treks. 
On my list the next time I visit:  Josh Gibson's gravesite.  I know plenty of APBA folk in the town.  Maybe even a LBS APBA tournament??