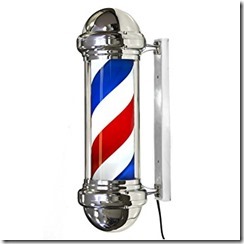 Have you ever gotten into a conversation with someone outside the context of APBA and found out that they play the game?
That happened to me yesterday.  It was time for me to get a haircut so I went to the barbershop in the University of Illinois campustown.  It's a great old-fashioned barbershop run by two men called Dave & Gene's Barber Shop.  It's the kind with a pool table in the back and sports memorabilia on the walls.  You know the type.
Well, I've always had my hair cut by Gene and he does a great job.  This time, he was out so it was Dave who up to the plate.  Well, we started talking about usual topics.  Weather first then of course Illini sports which is pretty common given the geographical location.  I mentioned he didn't have an Illinois Baseball poster on the wall (and would he like one?).  The conversation steered toward baseball and Dave eventually asked if I was in any fantasy leagues.
Well, I explained I wasn't in any fantasy leagues but I do play a "simulation baseball game based on stats from the year before".
"Is that anything like APBA?", he asked.
"Wait, APBA?  You know about APBA?"
From there, Dave and I kept talking about APBA for the rest of my haircut.  Turns out, Dave has been playing APBA for years.  He has been in leagues and even knows others in town who play APBA.  Long story short (I know, too late), we will be in touch again.  I've given him my contact info and yes, I gave him The APBA Blog web address too.  Dave if you're reading this, I'll be bringing the poster by next week.
APBA is not something that generally comes up in casual conversation.  Have any of you met someone who plays APBA in the wild?