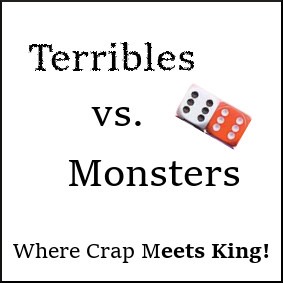 Now this should be fun!
It's time to vote for the Monsters firstbaseman in my Terribles vs Monsters project (more info here on this project).  Unlike the field for the Terribles team, there was plenty of firstbasemen to choose from.  I actually had to pare it down a bit.
No doubt, this will be a difficult choice.  Notice there are no J-4s in this group.  These guys earned their cards!  There are some big boppers and sharp sticks on the ballot.  I still haven't made up my mind yet.
Each player's name is linked to his original Monster Card Monday article written about him and his APBA card associated with it.
| | |
| --- | --- |
| Monsters Team nominee for Firstbaseman | APBA card breakdown |
| 1922 George Sisler | 1B-5, 0-0-0-0-7-7-7-8-8-8-9-9-11-11-11, three 14s |
| 1927 Lou Gehrig | 1B-4, 1-1-3-5-5-6-6-7-8-9-10-10, five 14s |
| 1930 Bill Terry | 1B-5, 1-3-4-6-7-7-7-7-7-8-8-8-9-9-10, two 14s |
| 1994 Jeff Bagwell | 1B-4, 1-1-0-0-0-0-8-8-8-8-9-9-11, four 14s |
| 1998 Mark McGwire | 1B-3, 1-1-1-5-5-8-8-9-9, eight 14s |
Note, there isn't a Monster Card entry for Bill Terry.  All these months, I had thought I had done one for him.  I'm making an exception for Terry because well, 51-7, right?  My oversight will be corrected next Monday, for sure.
It's your turn to vote!
---
In related news, the polls for the catchers in my project have ended.  Here are the winners and the poll results!
Terribles Catcher

1967 Johnny Bench

Monsters Catcher

1931 Josh Gibson