Team

 

Wins
Losses
Pct.
GB
Los Angeles Dodgers
31
14
.689
0

   

San Francisco Giants
27
19
.587
4 1/2
Pittsburgh Pirates
25
19
.568
5 1/2
Atlanta Braves
26
21
.553
6

   

Cincinnati Reds
21
19
.525
7 1/2
Philadelphia Phillies
21
21
.500
8 1/2
Chicago Cubs
19
23
.452
10 1/2
Houston Astros
20
26
.435
11 1/2
New York Mets
13
24
.351
14

   

St. Louis Cardinals
12
29
.293
17

   
I finished the month of May in my 1966 NL replay a while ago.  I started this summary but finally had some free time to finish it up and post it. 
A recap of my replay setup: I am using the most recent APBA charts and the 1966 cards I am using are ones that were published in 2009. I am replaying the full 1966 schedule of the National League season using ACTUAL games played.
My replay uses actual lineups and rotations as well as transactions as close to the actual date as possible. I play the APBA Baseball pretty much out the box with very little modifications though I disregard rainouts and injuries are limited to the duration of the game.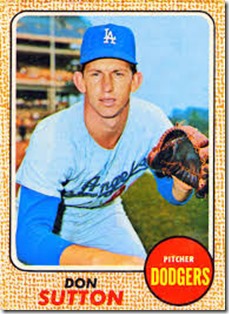 Los Angeles Dodgers 31-14
The Dodgers continue to win. They have been in first place since the first week of the season. While that hasn't changed, other teams have begun to challenge them for the top spot.
Throughout the season, the Dodgers have always been about the pitching. With a team ERA of 2.17, that's never been in question. Sandy Koufax had an incredible month of May going 5-1 with a microscopic 0.68 ERA. He now leads the league with a 1.22 mark. As for teammate Don Sutton, he's been literally unbeatable. He went 7-0 in May to boost his record to 11-0 with a season ERA of 1.97. Claude Osteen is an interesting case. He is in the top ten in ERA with spiffy 2.45 ERA but with little offensive support he can only sport a 3-8 record.
Dodger fans are hoping Don Drysdale isn't catching "Osteen-itis" as he was 1-4 with a 3.47 ERA after beginning the season with three straight wins. We haven't seen too much from the bullpen but neither Ron Perranoski nor Phil Regan have given up a run in 15 combined innings.
Offensively, it's secondbaseman Jim Lefebvre who is carrying the bat for the Bums. He's batting .325 with 7 homers. Leadoff man Maury Wills is tied for second in stolen bases with 14.
San Francisco Giants 27-19
With the best record in May (18-10), the Giants have consistently challenged the Dodgers for first place. They got as close as three games back and they have Willie Mays to thank for that. CF Mays had a phenomenal month of May. He hit six homers, hit .363 and lead all players in slugging and OBP. For the season, he leads the NL with 12 homers and a .650 slugging percentage and comes in 2nd with 33 rbis. 3B Jimmie Ray Hart provides a one-two punch as he is only other player in the NL in double figures in homers with 10. Willie McCovey provides some nice power too with seven homers and a .592 slugging percentage (3rd in the league). Needless to say, SF is the most powerful team in the league by a longshot (44 HR to second place Atlanta with 38).
Starter Juan Marichal has one of the most amazing pitching stats in my replay. In 91 innings, Marichal has allowed just 3.6 hits per 9 innings. He's at 7-3 with a second-best 1.58 ERA. The #2 man Gaylord Perry has a nice 2.90 ERA but the batters must take a day off when he's on the mound; he's 3-5 in 8 starts. Bobby Bolin makes up for it though. He's is 5-2. Opponents are still looking to score on reliever Lindy McDaniel who has 7 saves in 8 appearances.
Pittsburgh Pirates 25-19
Pittsburgh's story in the early season was Bob Bailey who hit .467 for the month of April and was pretty much leading most offensive categories. Bailey bat hit reality in May and for the month, he hit .286 with 10 rbis. Bailey is still hitting .358 for the season which is good enough to lead the league.
May was Matty Alou's month. The leadoff man collected 37 hits for May and is still currently on a 14 game hitting streak. He is looking to break his brother Felipe Alou's season record of 17 consecutive games with a hit. He is currently batting .333, fourth in the league. Willie Stargell got off to a great start this season but only hit two homers in May. Overall, he is still hitting .313 (8th in the league) and is tied with Mays for second with 33 rbis.
Bob Veale (6-5, 2.15 ERA) overcame a rough April to be nominated for Pitcher of the Month in May. After going 0-3 in April, he went 6-2 in May with a 1.22 ERA. Roy Face is arguably one of the best relievers in the game. In seven appearances, he has seven saves with no runs allowed.
1966 NL replay by the numbers
| | |
| --- | --- |
| # of games played | 215 |
| # of at-bats | 15,121 |
| # of innings pitched | 3,875 |
| # of homeruns | 286 |
| # of batters who came to the plate | 267 |
| # of pitchers who made an appearance | 126 |
| # of Dodgers who appeared in at least one game | 27 |
| # of Cubs who appeared in at least one game | 40 |
| # of pitching categories LA leads the league | 12 |
| # of pitching categories the rest of NL leads the league | 1 |
| Combined record of LA's Sutton and Koufax | 19-2 |
| Combined record of LA's Osteen and Drysdale | 5-9 |
Atlanta Braves 26-21
The Braves were the second winningest team in May which helped the recover from their 9-10 April. In fact, the Braves and Pirates often switched 3rd and 4th place throughout the month.
Felipe Alou really came into his own in May. He hit in 17 straight games. They weren't all singles either. By the end of May, Alou leads the league with 17 doubles and 9 triples. Combined with his 6 homers, his 32 extra base hits tops second place Willie Mays by eight. He also leads the NL with 37 runs. While Hank Aaron is 5th in the league in homers with 7 and 6th in rbis with 28, his .243 batting average leaves a bit to be desired.
With Tony Cloninger (6-4, 2.92 ERA) and Ken Johnson (3-4, 2.82 ERA), the Braves rotation is solid. The bullpen however, is phenomenal. Clay Carroll is threatening Don Sutton with his 9-0 record and 1.12 ERA in 15 appearances and one start. Billy O'Dell is the closer and has racked up seven saves.
Cincinnati Reds 21-19
Like the Braves, the Reds recovered from a less-than-stellar April. In May, they went 14-11 and placed in the top half.
Outfielder Vada Pinson may be the reason for this. He rebounded from a .196 average in April and hit .315 for May. He's now on a 9-game hitting streak going into June. The rbi leader for the Reds may surprise you. It is catcher Don Pavletich who has plated 22 Cincinnati runs. Thirdbaseman Pete Rose (.297) has been hitting around the .300 mark all season and is second in the league in doubles with 15.
Starter Jim Maloney (AX) has pitched as expected. He is 6-0 with a fourth best 1.95 ERA. Sammy Ellis however, is an interesting story. A DY, he sports a 6.36 ERA which ranks as the fifth highest among qualifiers. He gets a lot of support though. His 5-5 record ranks him at ninth most wins in the league.
The reliever with the coolest moniker, Billy McCool has seven saves and has yet to give up an earned run in 17 2/3 innings.
Philadelphia Phillies 21-21
The Phils are a team with a lot of promise but haven't yet pulled it together. They improved slightly in May (15-13) to finish the month with a .500 record. What hurt them the most was the disappearance of Richie Allen who only appeared in 9 games. Even with his break, (.368) Allen still leads the Phillies in homers (6) and rbis (21). He's back on the team now and has a five game hit streak going.
When Allen was on break, the Phils relied on Johnny Callison (42 hits, 9 doubles) and Bill White (9 doubles, 15 rbis) to put the bat on the ball.
Fortunately, the Phillies have three solid starters on their staff. Jim Bunning (7-2, 2.30), Larry Jackson (4-2, 2.18) and Chris Short (5-3, 2.90) have all pulled their weight. Closer Darold Knowles is struggling. In 11 appearances, he's saved five games but also lost five games and has one of highest ERAs of a closer at 6.17.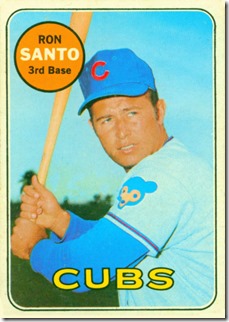 Chicago Cubs 19-23
On to my favorite topic… the Chicago Cubs. Unbelievably, the Cubs had a winning May at 14-12. This can only be attributed to their improved hitting led by Ron Santo. Santo caught fire in May hitting .358 including a 12-game hitting streak. Santo also led the league in homers for the month with 7 after just hitting one in April. As a result, he and fellow 3B Bob Bailey are now fighting it out for the top hitting spot. For now, Santo is hitting .350 for the season with a league leading OBP .448. He ranks 3rd in homers with 8.
Santo isn't the only batter with a good eye. Ernie Banks has been a big surprise ranking 3rd in the league at .333. Another surprise, Don Kessinger is batting .312 in the 8th spot. Acquired from the Phillies, Adolfo Philips needs to hit the ball a bit more at .246 but when he gets on, watch out! He leads the NL in steals with 19.
As for pitching, well things could be better. The Cubs have the second worst pitching staff in the league with a 4.74 ERA (yes, that's bad in 1966). Two of worst qualifying ERAs belong to Cubs starters in Bill Hands (7.33) and Ernie Broglio (5.89). However, a DZ in Dick Ellsworth (4-3, 3.52 ERA) is holding this team together and has become a fan favorite. Recent acquisition Ferguson Jenkins (3 saves, 3.60 ERA) has mostly been used in relief and has shown signs of brilliance.
Houston Astros 20-16
This Houston team has some strange stats especially for a team that is 6 games under. Let's start with the NL rbi leader Jimmy Wynn. He's driven in 35 runs despite a .234 batting average and leading the league in strikeouts with 42.
How about Rusty Staub? Never once during the month of May did I think, "Hmm, Rusty is having a good month". Once I tabulated the monthly stats, there is Staub leading the league with 26 rbis for the month. He did hit .308 for May but he had only two dingers.
Leadoff man Joe Morgan does one thing really well. He gets on base with the walk. He has 38 base on balls so far and that is ten more than second place Ron Santo. At .151, Jim Gentile has the distinction of being the worst hitter among qualifiers. SS Sonny Jackson makes a good #2 man in the Astro lineup and is leading the NL in hits with 63. More strangeness though, he had no extra base hits in May in 130 at-bats.
Larry Dierker (4-2, 2.47 ERA), Miguel Cuellar (3-2, 3.10 ERA) and surprisingly, Grade D Robin Roberts (4-3, 2.95 ERA) have provided good pitching support for the Astros. Claude Raymond has 7 saves in 9 appearances with a nice 2.19 ERA.
New York Mets 13-24
With better weather in New York, the Mets played 25 games in May. That schedule was a lot more rigorous than the 12 they played in April and it seemed to affect their performance. In May, they went 7-18 and dipped to ninth place with an overall 13-24 record.
Of all of the 1966 NL teams, I personally find the Mets team the least exciting. That said, they have found ways to keep it interesting. Look at Tug McGraw who is a DW and pitched only 62 innings for the season. He started the replay by pitching shutouts in his first two starts. After being ejected in his third start in the second inning, he still only allowed just two runs in his fourth start so he kept his name in the ERA leaders. He only just dropped from there from lack of qualifying innings though he still maintains his 1.54 ERA in 35 innings.
Jack Hamilton could learn a thing or two from Tug. With a 7.39 ERA, he is the sole pitcher in the replay in double-digit losses at 1-10.
Ron Hunt is the one offensive standout for Mets. Not only does he lead the league in HBP with 7, he also ranks sixth in OBP with a .389 mark. Ron Swoboda and Ed Kranepool lead the team with four homers while Ken Boyer paces the team in rbis with 19.
St. Louis Cardinals 12-29
It has gotten so bad for the Cardinals that I am actually starting to root for them if for no other reason than statistical accuracy. St. Louis' April (5-11) has only turned into a worse May (7-18). Julian Javier had a unexplainable April with 5 homers and 13 rbis but none of his hits left the park in May and he only had one rbi. Lou Brock hit .391 in April but only hit .215 in May. The story goes on…
On a positive note, Charley Smith leads the Redbirds with 22 rbis.
Without offensive support, Bob Gibson (AX) is left blowin' in the wind. His 2.69 ERA is wasted and he can only muster a 5-4 record. Much responsibility can be left at the Cardinals' bullpen. A&C* Joe Hoerner (1-3, 4 sv, 5.56), A*Hal Woodeshick (0-6, 5.49 ERA) and Nellie Briles (1-5, 4.35 ERA) just ain't gettin' the job done.
Many Cardinals fans loved the Ray Sadecki for Orlando Cepeda deal with the Giants. Think about this, though. As of now, Sadecki (2-0, 4.09 ERA with the Cardinals) was the only pitcher other than Gibson with more than one win. Cepeda is hitting .250 for the Cardinals and has yet to hit his first homer.