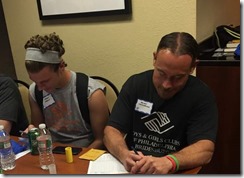 Phillies phanatic Brian Cavanaugh (shown right at 3rd annual Robert Henry Tournament) fills us in on his latest project.  He's completed a replay of the 1964 Philadelphia Phillies.  Here is his wrap-up… -TN
When I first began doing season replays, I figured it would be fun to play with teams that finished in second place and see if I could re-write history. I did that once with the 1986 Rangers and than moved on to the 1964 Phillies. The two replays were vastly different experiences for me. I found that I enjoyed the 1964 Phillies replay a lot more for a few reasons:
1) Growing up in Philadelphia and being a lifelong Phillies fan, there was an attachment there that wasn't for the Rangers.
2) My father was around 16 years old in 1964 and it was his first taste of a pennant race. This team has always been his favorite Phillies team of all time
I than decided during the '64 Phillies replay that for the time being I would replay only the Phillies seasons. So far, I've completed 1964, 81, 89, 91, 92, 93 (my all-time favorite Phillies team). I also than decided that I would currently focus on what I consider to be the greatest era of Phillies baseball ever, the 2007-2011 run, or as I call it, the "Rollins-Utley and Howard era" starting with the first year they played together 2005. So far, in succession, I have replayed 2005-'07 (with 2008 set to begin any day). Starting with 2005, I will post my results.
2005 Phillies… 92-70, 1st place NL East (2 games ahead of Atlanta Braves, defeated SD in DS 3-1, lost to STL in LCS 4-0)
Leaders
AVG… Kenny Lofton, .318
Runs … Jimmy Rollins, 116
Hits … Jimmy Rollins, 186
HR … Pat Burrell, 34
RBI …Pat Burrell, 95
2BH … Jimmy Rollins, 50
3BH … Jimmy Rollins, 12
BB … Bobby Abreu, 95
SB … Jimmy Rollins, 46
Chase Utley takes over at second base after Placido Polanco (.216, 3-15) was traded to Detroit and hits .309 (136 – 473), 27-84.
Ryan Howard falls short of his NL Rookie of The Year numbers to post .207, 19-70
Bobby Abreu finishes at .247, 18-87
Jimmy Rollins finishes at .275, 10-55
The Phils would wrap up their first playoff birth since 1993 by winning 92 games. A near sweep of the Padres in Divisional Series was followed by a Cardinals sweep in the NLCS.
Pitching Leaders
SVs … Billy Wagner, 41
W … Brett Myers, 15
L … Jon Lieber , 12
ERA … Myers, 3.51
Ks … Myers, 188
Brett Myers leads in most categories for starters (W, ERA, KOs, GS). Billy Wagner (7 – 0, 2.42) was lights out in his final season for the Phil's appearing in 67 games. Ugueth Urbina (3-5, 5.46, 43 games) struggles as the 8th inning reliever following trade with Tigers. Ryan Madson (2.78) and Geoff Geary (2.53) emerge as dependable bullpen arms.
Up Next: Ryan Howard's record breaking 2006 season ends in heartbreak for the Phils…
Nice recap, Brian!  Congrats on finishing another replay. Good luck with '06!