I opened up my Excel stats spreadsheet for my 1966 National League replay tonight after a Pirates-Reds game and saw something I hadn't seen before.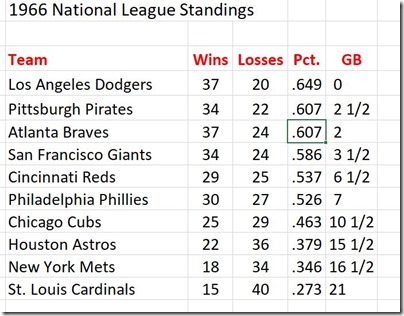 Take a look at the above June 13 standings and see if you can spot the weirdness.  Well, besides the Cardinals stinking it up in last place, I mean.  What I'm talking about is this… Check out the Pittsburgh Pirates and the Atlanta Braves and pay attention to their win percentage and Games Back (or Games Behind). 

Despite appearances, the Pirates and Braves do not have identical win percentages.  The Pirates are 34-22 and comes out to a winning percentage of .607143.  The Braves' record of 37-24 works out to .606557.  Both round to .607 but the Pirates' is obviously higher. 
But that's not the strange part.  It's that the Pirates have a higher Games Back number even though their win percentage is higher.  This is the first time I've encountered this. 
This is my sorting algorithm for my standings in Excel.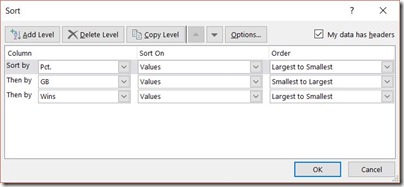 I sort by Winning Percentage first.  In case of a tie between teams, I sort by Games Back and in the rare chance that both are tied, I sort by total wins.  I should say that I do not know if this is the correct method.  It just seemed to make sense to me. 
The cause of this issue here is most likely that Pittsburgh has played five less games than Atlanta (due to the weather in East in 1966, I'll bet.  You'll see the Mets are down a few games as well).  The question is this:  According to MLB rules, are the Pirates in 2nd place or are the Braves? 
My gut instinct says Win Pct. but I've never seen standings with Games Back out of order. 
thoughts?