Yesterday, I posted an overall recap of my basic game NL 1966 replay as of June 15. Before I start rolling again, I thought I'd post a few interesting but perhaps irrelevant stats.  While some don't always include the stars of 1966, you might get a feel for 1966 NL environment.
Who's Hot: Current Hitting Streak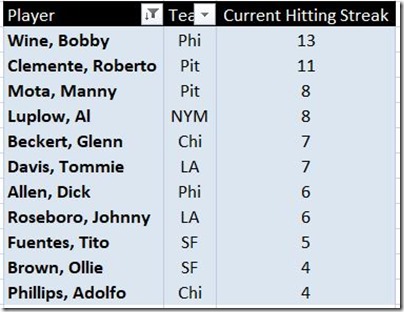 This is interesting to track for me because I'll see players on this list that aren't necessarily stars.  Players like Bobby Wine who in real life, didn't even reach 100 at-bats in 1966.  For some reason, Philly has been playing him a lot in June.  The current hitting streak table just helps me keep tabs on who's hot.
When I find the time, I may create a table that shows me who has gone the most at-bats without a hit.  That might be fun.
Ninth hitter: Pitchers' rbis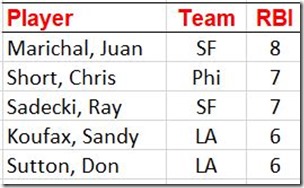 Aside from Sadecki who has a monster card, this shows that those pitchers who complete games bat more and have more chances to drive in runs.
As for Ray Sadecki, you can see his card for yourself.
Rally Killers: Most GIDP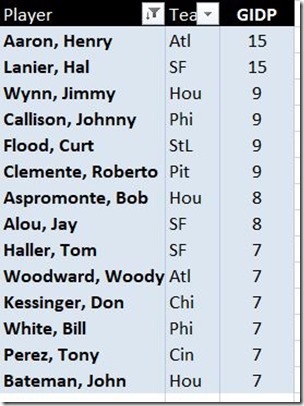 Aaron (one 24) can be given a little slack because he plays every day and has hot hitting Felipe Alou batting ahead of him.    As for Hal Lanier, his four 24s aren't helping the Giants quest for first place.
Wynn, by the way, has a 41-28.  It's worth mentioning that Joe Morgan is batting two spots ahead of him.  Morgan is leading the NL in walks and while that helps league leading Wynn's rbi total, it most likely influences his DPs as well.
You shall not pass! (to first base): WHIP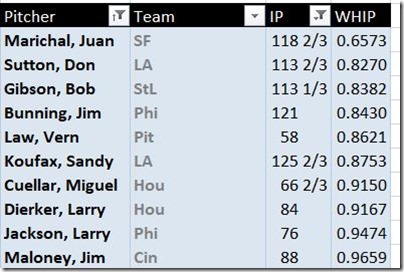 I show this WHIP leader table because of this fact.  All six A starters (Marichal, Gibson, Bunning, Koufax, Cuellar, and Maloney) appear here.
Probably not a coincidence.
Hole in the bat: Lowest batting average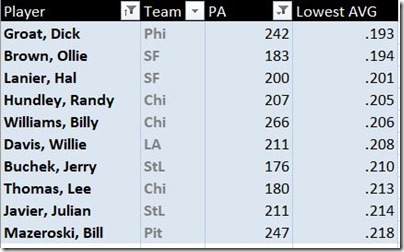 I like to trot this out on occasion.  The Astros' Jim Gentile was on the "top" of this list for a while but the Astros must have peeked into the alternate universe of APBA and seen his performance and benched him.  Since this list is based on only qualifying batters, he fell off of it.
While I don't like seeing names like Billy Williams and Bill Mazeroski on this list, I take heart in that their averages have gone up along with everyone else.  Instead of averages in the low .100s, we're only seeing a couple below .200.
Time to start rolling soon.