It was almost like Haddix and Burdette all over again.
It was June 8th in my 1966 NL replay and the Giants were at the Astrodome.  A pitchers' duel was imminent with hurlers Juan Marichal (AXZ) and Miguel Cuellar (AXZ) pitching for their respective teams.  But I had no idea what I was in for. 
Astros' starter Cuellar started out tough by striking out the first five batters he faced.  He kept it going too.  In fact, Miguel pitched a no-hitter for nine innings.  He hadn't won the game yet though.  Marichal, who leads my replay with 3.4 hits/9 IP, brought that average down even further.  Through nine innings, he allowed one hit.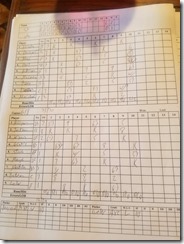 After nine complete, it was still 0-0 and only Felix Mantilla had managed to hit safely. 
Well, I wasn't about to bring in a reliever so Cuellar came out for the tenth.  With one out, Willie Mays hit a double for the Giants' first hit of the day.  Batting fourth was Jim Ray Hart which was a departure from the Giants' familiar Mays-McCovey-Hart order in the lineup.  Well, Herman Franks must have known what he was doing when he was filling out the lineup card because Hart drilled that ball for a two-run shot.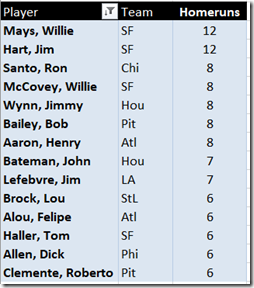 Not only was that just the second hit of the day, it was the first two runs.  Those two runs would stick as the Astros went 1-2-3 against Marichal in the bottom of the tenth. 
Cuellar would finish with eleven strikeouts and Marichal had nine of his own.  Marichal's shutout is his third in his last five starts and his sixth overall. He improves to 9-3, third in wins.  With the shutout, his ERA is 1.31, second only Sandy Koufax' 1.22 mark. 
As if this game didn't have enough drama, Jim Hart's homerun ties him for the league lead with teammate Willie Mays with 12.