I've reached the June the June 15 mark in my 1966 NL replay! I'm really excited and don't look now but the All-Star Game is less than a month away! A lot has changed since I reported in. First, a look at the standings: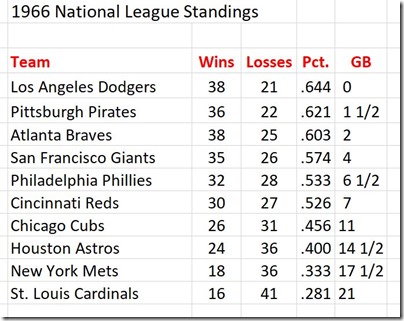 At the beginning of the month, LA was cruising with a 31-14 record. However, for the first two weeks of June, they performed at a lackluster 7-7 rate no thanks to Sandy Koufax' 0-4 losing streak. The Dodgers are hanging on to first place but just barely.
The potential suitors for the top slot are the Pirates who are 1 ½ games out and the Braves who are just two out. The Giants have been major players throughout the whole season but have slipped a bit and are four down.
The Phillies and the Reds have an outside shot but every game count as we get later in the season.
Highlights from the plate
When June started, Pirate Bob Bailey was Mr. MVP. He lucked his way into a fantastic spring. He ended May at a league-leading .358 and came in second in OBP (.421) and slugging (.601). Since then, he's gone into a major league slump. For June, he is 3 for 33 with ZERO rbis.
Ron Santo took over the #1 spot but just briefly. The 1966 season is chock full of corner infielders that can hit and right now, it's neck and neck between Willie McCovey (.333) and Willie Stargell (.332). Joe Torre (.330) and Santo (.329) are right behind.
Matty Alou is 8th in hitting with a .315 average but I'm surprised it's not higher. In June, he completed a 23 game hit streak besting brother Felipe Alou's 17 game hit streak. Matty went ohfer on June 14th but got a hit the next day.
Highlights from the mound
Los Angeles was all about the pitching in the first two months. By June 1, they had the lowest ERA at 2.17. By the 15th, LA is still tops in hurling with the exact same 2.17 ERA but others are catching up. The Pirates (2.78) and Phillies (2.84) are both under 3.00. Both teams tied for the lead in shutouts with 11 total. Meanwhile, the Pirates have three pitchers in the top ten in ERA with Vern Law's top mark of 1.40, Bob Veale at fifth with a 1.96 mark and Woodie Fryman at 8th with a 2.13 ERA.
However, LA remains dominant on hill. Despite his four straight losses, Sandy Koufax is #2 in ERA with a 1.43 ERA in 125 2/3 innings and the strikeout king with 123 Ks. Rookie Don Sutton comes in at second with 116, by the way but check out the important stat… he has won every start so far and his 14-0! Atlanta's Clay Carroll (10-0) and San Francisco's Juan Marichal (10-3) are the only other double-digit winners as of June 15.
Marichal's stats are certainly mention-worthy. In addition to his 10-3 record he is third in ERA with a 1.52 ERA as well as strikeouts with 110. So far this year, he has only allowed 3.8 hits per 9 innings pitched. That explains his league leading six shutouts.
Team Highlights
Los Angeles Dodgers 38-21 .644
Among the leaders: Koufax 2nd in ERA (1.43) and 1st in Ks (123), Sutton 1st in wins (14)

I've addressed much of the Dodgers' pitching strengths earlier but consider this; since May 28th Sandy Koufax has allowed seven earned runs in 37 2/3 innings yet still went 0-4. In the same period, Don Sutton went 5-0. To do that, he allowed just three runs in 47 2/3 innings. That would lead you to believe that the Dodger bats are a bit light and that may be a bit true at least for this month. As of June 15th, no Dodger hitter lands in top ten in batting average, on-base percentage or slugging average.
There are some highlights from the plate though. Secondbaseman Jim Lefebvre is hitting .303 with a team leading 7 homers. Maury Wills started out June with a 13-game hit streak. He's currently hitting .278 and comes in third in steals with 21. While hitting just .249, firstbaseman Wes Parker has been solid. Playing every day, he is among league leaders in runs (34), doubles (12) and walks (27).
A final note: starter Claude Osteen started out the year with a 1-8 record. Since May 27, he's gone 3-1 to up his record to a more respectable 4-9 to match his 2.81 ERA.
What needs to be done: Continue pitching; start hitting
Pittsburgh Pirates 36-22 .621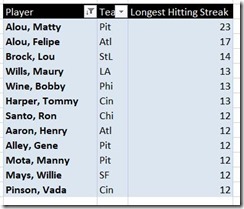 Among the leaders: Stargell 2nd in BA (.332) and 2nd in rbis (42), Law 1st in ERA (1.40), M. Alou 23 longest hitting streak (23)
Throughout this replay, the Pirates have always been in the upper echelons of the NL standings but in early June, the Bucs' pitching finally took hold to complement their already tough hitting. The rotation led by ERA leader Vern Law (6-1, 1.40) finally began to win. Bob Veale (8-6) mows them down (102 strikeouts) and is fifth in ERA (1.96). Woodie Fryman (4-2) who is a Cy, barely qualifies but his 2.13 ERA lands him in the top ten.
However, when I think of the 1966 Pirates, I think of their hitting. Bob Bailey's hot spring was a bonus. He is a solid hitter but he was never meant to sustain that pattern. There were plenty of other Pirates to fill his shoes though.
Bob Clemente got off to a rough spring but he sure made up for it in June. So far, he is hitting .452 (28 for 62) with four homers, 12 runs scored and 13 rbis for the first two weeks of the month. Thanks to this hot streak, Clemente ranks 3rd in homers with nine.
On June 14th, leadoff man Matty Alou concluded a 23-game hit streak going back to May 11th. Interestingly, despite getting a hit in every game except one in the first two weeks of June, Alou is hitting .255 for June (there a lot of 1 for 4 games). Overall, Alou is hitting .315 for the year.
Willie Stargell has been a big part of the Pirates' success this spring. He has hit well all year then added more in June. At .332, He currently is one point behind the "other Willie" McCovey who is leading the league at .333. Stargell comes in second in rbis at 42.
With a few more at-bats, outfielder Manny Mota would be a contender for the NL batting lead. He is hitting a whopping .395 in 136 plate appearances, Mota also leads the Bucs in slugging with a .540 mark despite just one homer.
The Bucs' bullpen led by Roy Face (1-1, 1.93 ERA, 9 saves) is getting the job done. Al McBean (0.93 ERA), Pete Mikkelson (1.06 ERA), and Bob Purkey (no ER in 9 IP) all contribute in a positive fashion.
What needs to be done: Lower half of the rotation needs to come through
Atlanta Braves 38-25 .603
Among the leaders: F. Alou 1st in hits (85), 1st in runs (53), 1st in doubles (21), 1st in triples (11), 1st in XBH (39), Carroll 2nd in wins (10)
The Braves have played tough all year with a good combination of powerful hitting and solid pitching. C-1B Joe Torre has produced well. He's third in the league with a .330 average and hits with 74. While Hank Aaron's batting average is a little low at .245, he still leads this tough team in homers with 8.
The best output from this team comes from its leadoff man. Felipe Alou has some of the best stats in the league. He leads all NL batters in hits (85), runs (53), doubles (21), triples (11). He already has 39 extra-base hits, which is 8 more than second place Willie Mays. He even ranks sixth in rbis with 36 (tied with teammate Torre) as a leadoff batter.
The star on the Braves' pitching staff is Clay Carroll (C(A*) who is one of their two A*hurlers. In 19 appearances including two starts, he is 10-0 with a nice 1.45 ERA. As good as Carroll has done, it's Tony Cloninger (CYW) who has surprised folks. Cloninger has racked up a 9-4 record with a nifty 2.53 ERA. Those nine wins are good enough for fourth in the league. He also boasts a league high 49 walks but he gets the job done.
Denny Lemaster is challenging Sutton for NL Pitcher of the Month. So far, he is 4-0 and has allowed just five earned runs in 32 innings. For the season, Lemaster is 5-3 with a 3.22 ERA. Atlanta's other A* is Billy O'Dell. While Billy is 3-3 with 10 saves, his 3.60 ERA doesn't have the luster that Carroll's stats do.
What needs to be done: Trade for another Clay Carroll.
San Francisco Giants 35-26 .574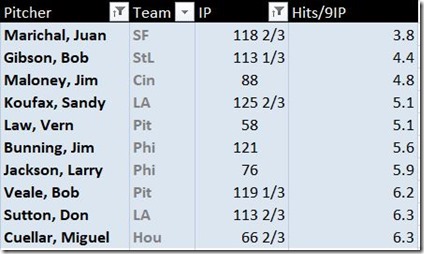 Among the league leaders: McCovey 1st in BA (.333), Mays 1st in HR (15) and 1st in slugging (.620), Marichal 3rd in ERA (1.52), 3rd in Ks (110), 1st in shutouts (6) and Hart 2nd in HR (13)
To round out the trio of teams that have been consistently fighting it out for the #2 spot in the standings are the Giants. The Giants have POWER! They currently lead the NL in homers (57) and slugging (.391). While there some recognizable names in this lineup, one that doesn't come to mind is Jimmie Ray Hart. For a few days in June, he was leading the league in homers. For now, he has 13 dingers with 35 rbis.
The man who overtook Hart was teammate Willie Mays. Mays (OF-3) can do it all. He's hitting .319 which is sixth in the NL. Thanks to his 15 homers (tops in the league), he also leads in slugging with a fun .620 mark.
I haven't even gotten to Willie McCovey yet. "Stretch" is leading the NL with a .333 average and places second in slugging (after Mays) at a .579 pace. Big secret here… Mays, McCovey and Hart bat in order in the Giant lineup and they all are rated 3 for their fielding. I just call them the "Three Threes".
Juan Marichal is doing his best to keep the Giants in the race. He paces the NL with six shutouts. He is one of only three pitchers with 10 wins (10-3) and one of only five with 100 strikeouts (110). His hits per 9 IP is only 3.8. Each game he pitches, I feel it has to higher but he comes through with another great game.
Of the top four teams, the Giants' pitching is the most suspect. Aside from Marichal, the Giants have Bobby Bolin who is surviving at 6-3 with a 3.41 ERA. Other than that, Ron Herbel (3-5, 6.29 ERA) and Ray Sadecki (3-2, 5.54 ERA) are not cutting it. Even Gaylord Perry is having a rough time of it (2.66 ERA but 4-5).
In the bullpen, Lindy McDaniel has been perfect with a 1-0 record, 8 saves and a 0.00 ERA. Bob Priddy helps set things up with a 1.69 ERA.
What needs to be done: Marichal should teach the rest of the rotation how to pitch.
Philadelphia Phillies 32-28 .533
Among the league leaders: Allen 5th in HR (8) and 6th in rbis (36), Bunning 5th in Ks (100)
The Phils have had a grueling June so far with 18 games in 16 days. It's paid off as they went 10-8 and they are starting to make some ground in the NL standings. One thing the Phillies bring to the table on most days is good fielding. They are one team that reach Fielding One on a consistent basis thanks in part to Bill White (1B-5), Cookie Rojas (2B-8) and Johnny Callison (OF-3).
The biggest contribution by a hitter is someone who doesn't yet qualify. Dick Allen is finally getting some playing time. In only 142 at-bats, Allen still leads the Phillies in runs (31), hits (55), triples (4), homers (8) and rbis (36). He is only 10-20 plate appearances away from qualifying so his .387 batting average will blow away McCovey and Stargell once he does.
Bill White has been a solid hitter. He is second on the team in rbis at 27 and leads with 12 doubles. He also leads with 4 stolen bases (Philly is not a running team).
The one-two punch of Jim Bunning and Chris Short have gotten the job done. Bunning is 8-4 with a 2.08 ERA. He's also reached the century mark in Ks on the nose. Short leads all pitchers not named Marichal in shutouts with three. With a 7-4 record, his ERA is approaching the top ten at 2.49.
Bullpen ace Darold Knowles has eight saves but his 2-6 record and 4.08 ERA might mean Philly management might look elsewhere for late inning help.
What needs to be done: Keep Dick Allen in the lineup.
Cincinnati Reds 30-27 .526
Among the league leaders: Harper 4th in OBP (.407), Maloney 6th in ERA (2.05) and 6th in wins (8)
The Reds have been humming along at a .500 pace for a while now just enough to keep alive. They have some exciting players but there are some holes that prevent them from making their move.
Tommy Harper is a great leadoff man (.323 BA, .407 OBP)… when he plays. His durability is an issue. Pete Rose has been solid at the plate hitting .285 with 34 runs scored. Deron Johnson provides some pop with 8 homers and 28 rbis.
Jim Maloney is the star of the rotation. He dots the leaderboards with an 8-2 record, 84 Ks and a 2.05 ERA. Milt Pappas does ok for himself too with a 7-4 mark. Cincy has the dubious honor of having the worst pitcher in the league. Sammy Ellis (5-6, 6.45 ERA in 67 innings) has the worst ERA among qualifiers.
Cool Billy McCool finally gave up his first earned run in June. With one earned run in 24 2/3 innings that works out to a miniscule 0.86 ERA to go with his league leading 14 saves.
What needs to be done: Ellis needs a break.
Chicago Cubs 26-31 .456

Among the league leaders: Santo 4th in BA (.329), 1st in OBP (.426), 3rd in rbis (40), Phillips 1st in SB (24)
Now to the Cubs who I am secretly favoring but am not consciously helping in any way (really!)…
First, I am amazed at how many players the Cubs are using. Because of trades and the size of their original roster, the Cubs have had 40 players come to the plate and 17 pitchers trot out to the mound. That is much more than every other team (in contrast, Los Angeles have had 24 batters and 10 pitchers).
That said, I'm proud of the Cubs' performance so far. They were a 100-loss last place team in real life and at this rate, they'll finish at 74-88. The season is young though and there are plenty of starts by Bill Hands left.
Ron Santo is a big reason why the Cubs are scoring runs. He recently just gave up his #1 spot in batting average. He's now four points below McCovey at .329. He's still tops in the league in OBP at .426. Batting cleanup, Santo is one of four hitters with 40 rbis. Keep it up Ronnie!!
When Don Kessinger is fifth in the league in hitting, check your dice; maybe they're loaded. Yep, Don is hitting .323. Can't figure that one out. Firstbaseman Ernie Banks is doing well too. If it weren't for the 1 for 12 streak he just went through, he'd be up with Kessinger. As it is, Banks is hitting a nice .309 with 5 dingers.
Glenn Beckert has been raking at the plate too. That's a little more believable though with his 44-7. Beckert is hitting at a .307 pace. Adolfo Phillips was a nice pickup from the Phillies. Hitting .290, he's tied with Lou Brock with 24 steals.
As for the Cubs' pitching, I'll start with the good news. Bill Hands has gotten his ERA below 6.00. At 5.90, he actually has .500 record at 3-3. However, Ernie Broglio may need to have a talk with Leo. He's 1-7 with a 5.34 ERA (that one win was a shutout if you can believe it).
Workhorse starter Dick Ellsworth has pitched his heart out. A DZ, Dick doesn't want to go 8-22 like he did in real life. He's starting ok as he is 6-4 with a 4.58 ERA so far. Speaking of trade pickups, Fergie Jenkins enjoys being on the Cubs. He's 1-2 with 6 saves and a adequate 3.38 ERA. Recent trade acquisition Chuck Estrada has done well in limited play (2.08 ERA in 13 innings).
What needs to be done: Not much. The Cubs are probably doing as well as they can.
Houston Astros 24-36 .400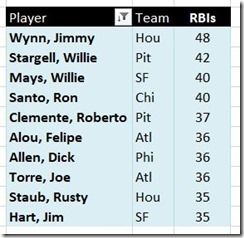 Among the league leaders: Wynn 1st in rbis (48), 3rd in HR (9) and 1st in Ks (57), Morgan 1st in BB (52)
The Astros have fallen a bit in June, going 4-10 in the first two weeks. They have three standout offensive stars that have kept the team exciting though. Joe Morgan doesn't hit that well (.257) nor does he hit for power (1 homer). But boy, he can coax a walk. With 52 base on balls, he leads second place Hank Aaron by a total of 16. As a result, Morgan has scored 39 times, fourth in the league.
My bet is that many of those runs were driven in by center fielder Jimmy Wynn. While only hitting .250, Wynn has the sole lead in rbis in the NL with 48. Hitting 9 homeruns is helping Wynn's case too.
Shortstop Sonny Jackson has more hits other than Felipe Alou with 77. Hard to believe that he's not hitting .300 but he registers at just .295.
Logic would dictate that Miguel Cuellar (AXZ) would be the star of the Astros pitching staff. Cuellar sports a nice 2.97 ERA but with little support, he's left with a 3-5 record. It's Larry Dierker who got off to a very hot start and continued to pitch well. He's 5-4 with a 2.46 ERA. Late man Claude Raymond has registered 9 saves with a 1.80 ERA.
What needs to be done: Give Miguel Cuellar a little more support, si?
New York Mets 18-36 .333
Among the league leaders: Hunt 1st in HBP (12), Hamilton 1st in Games (22) and 1st in losses (11)
If it weren't for the hapless Cardinals who are playing way below their potential (and the Cubs who are playing way above theirs), the Mets would be in last place. With mediocre hitting and ineffective pitching, they unexciting and unproductive. They experienced an upswing in May but so far in June, they have gone 5-12.
No Met has more than four homeruns (Ed Kranepool, Ken Boyer, and Ron Swoboda are all tied). Only one regular is hitting over .275 and that's Boyer with a .280 mark. Ron Hunt is having a notable season. He leads the NL with 12 HBP, twice as many as Al Ferrara the next in line. That's helping his .389 OBP which is 8th best in the league.
Among the ten worst ERAs in the league, the Mets have three. Meet Jack Hamilton (3-11, 6.37 ERA), Rob Gardner (2-8, 6.09 ERA) and Jack Fisher who somehow has a winning record (3-2, 5.25 ERA). Hamilton leads the NL in losses with 11.
The one bright spot among the New York arms in Dennis Ribant. His 2.44 ERA and 4-2 record almost seem out of place in the staff.
What needs to be done: Pitch more strikes and less balls (I'm looking at you, Hamilton).
St. Louis Cardinals 16-41 .281
Among the league leaders: Brock 1st in SB (24), Gibson 2nd in H/9IP (4.4)
I can't figure out the Cardinals in my replay. The have hitting (Brock, McCarver, Flood and Cepeda) not to mention pitching (Gibson, Jackson, Jaster plus one of better bullpens in the league) yet they still continue to lose. In last place on June 1, they have gone 4-12 for the first two weeks of June. Though I'm not a Cards fan, I am almost rooting for them for the sake of accuracy.
Starter Bob Gibson was a force in real life but he hasn't gotten a lot of support. His 2.54 ERA speaks for itself but his 6-6 record doesn't do him justice. Meanwhile, Larry Jaster has just come on for the Cardinals. He's got a 1.88 ERA in 43 innings but again, no support. He's just got one win.
It's the bullpen that is the Cardinals' downfall. Nelllie Briles (1-9, 5.25), Hal Woodieshick (0-7, 4.23 ERA), and Joe Hoerner (1-3, 5 saves, 4.30 ERA) simply can't be trusted with a lead.
Lou Brock is the big star on the Cardinals' lineup. He is tied with Adolfo Phillips in steals with 24. Not only that, he is batting .301 and has 7 homers from the leadoff spot. Charley Smith leads the team with 23 rbis (which tells you how dire their offense is). Number 3 man, Curt Flood is only hitting .225 and for some reason, the Cardinals have benched highly sought Orlando Cepeda for the last week. Interestingly, Jerry Buchek comes in second in the league strikeouts. The shortstop has struck out 51 times in 46 games.
What needs to be done: Pitch complete games. The bullpen can't be relied on.
Going into the second half of June, there are some personnel changes. Most of the recent ones involve the Mets and the Braves. The Mets acquired starter Bob Shaw from San Francisco for some cash. In addition, they bought Bob Friend from the cross-town Yankees. To make room on their roster, they released Dick Stuart. He won't be missed as he was hitting just .229 with no homers.
The Braves made a one-for-one trade with the Reds. Hank Fischer goes to Cincy for Joey Jay. They also made a big move by trading one of their A* relievers, Billy O'Dell to the Pirates. In return, spot starter Don Schwall (BW) comes to Atlanta. This is a huge deal for two teams who are both competing to take on the Dodgers. O'Dell will strengthen an already strong Pirate bullpen that yet doesn't have an A*.
The race is on!!