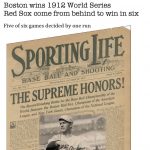 Yesterday, I wrote about Rod Caborn's meticulously documented NL 1912 replay in which Christy Mathewson helped the New York Giants win the NL pennant.
What happened then?
Well, Rod and the Giants played out the World Series against the real-life AL pennant winner, Boston Red Sox.  As you can guess, it was a pitching-rich display by both teams' hurlers.  In six games, a total of 23 runs were scored by both teams.  Every game except one was decided by one run (Game Two got out of hand as New York "pounded" Boston, 4-1).
Despite the low scores, Boston did have a .302 batting average.  In the end, they came out the winner as they overcame a 0-2 deficit and won the last four straight.  Series MVP Smokey Joe Wood won against Big Six to tie the series in the fourth game as both pitchers allowed two hits each.  Give credit to Hugh Bedient who got the clinching win in Game Six.  He and Wood pitched a combined shutout with Wood collecting the save.  Rube Marquard got the loss.
I don't do Rod's replay justice though.  As always, his presentation is fantastic.  You can read it here.
Great job on the replay and the postseason, Rod!