The pitching performance chart tracks individual pitching performances.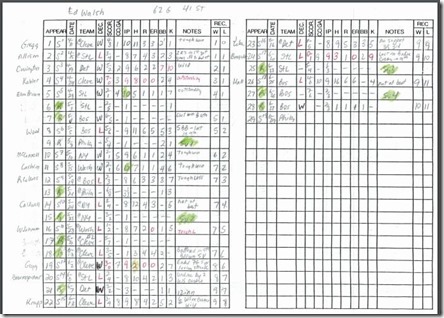 First of all, let's get past what, at first glance, looks like extra work. A replay, after all, has a lot of administrative demands, but maintaining a pitching performance chart is an administrative chore that gives back a multitude of feedback.
Recording pitching performances on the chart takes about 30-60 seconds to fill out the information for an individual appearance. However, it's time well spent when you weigh the benefits of what this information reveals.
Take a closer look at the chart to get better acquainted with what you have to fill out. A sample chart, tracking Chicago White Sox ace Ed Walsh's replay performance in a 1911 replay, is attached, by way of illustration. Walsh provides a good example because he both started and relieved in 1911, which means that both types of appearances have to be noted.
The chart tracks two different categories of information.
The first category is information about when the pitching performance occurred. This includes the appearance number (first appearance, second appearance, etc.) and the type of appearance (start or relief). Also noted is the date of the appearance (date on your replay or game number, your preference) and the opposing team.
The second category is what happened during the appearance. This includes all the basic information including a win or a loss, the score, whether or not it was a complete game (if a start) and the usual line score information one would find a box score. Home runs are not shown simply because I ran out of room when I put this chart together. I record home runs given up under "Notes," which also notes anything else of interest.
That's a lot of information. But, as your replay unfolds, it's information that will, at a glance add to your understanding and enjoyment of what is happening in your replay.
Next: The benefits of using a pitching performance chart