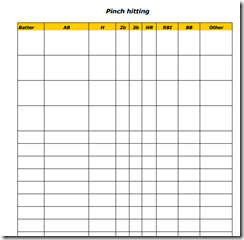 I've always wondered why MLB doesn't focus more attention on the result of pinch hitters. These guys get paid big money to deliver in important situations, always the end of games, but they don't get much ink or recognition.
I track pinch hitting results in my replays, simply out of curiosity. The results are always surprising. In every replay I have conducted, an obscure player emerges who consistently delivers in the clutch.
The tracking chart for tracking pinch hitters is very basic. All you have to do is make a copy for each team, pencil in the names of the hitters and pencil in each at bat, hit, etc. A little extra room is provided to accommodate those players who will be most likely to be called upon as pinch hitters.
Here is a link for a formatted pinch hitting chart that you can reproduce and incorporate into your next replay. It includes extra space to accommodate those batters who will likely be called upon to pinch hit most often.
Next: Tracking pitching winning and losing streaks