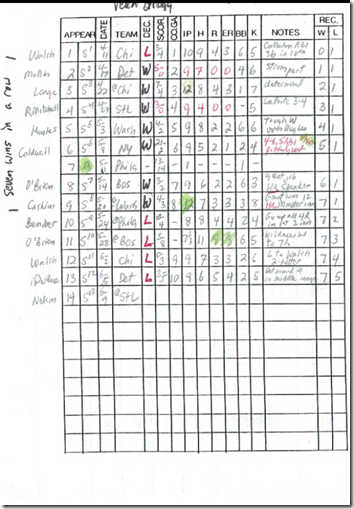 A while back, the Pitching Performance Chart was introduced to illustrate how you can track individual pitching performances over the course of a season replay.
One of the hidden benefits of the Pitching Performance Chart is its ability to showcase winning and losing streaks. One glance at the W-L column and you can see, at a glance, how a pitcher is doing.
I list a win in bold face black and a loss in red, just like an accountant would list credits and debits. It visually paints a picture of an ongoing winning or losing streak and adds considerably to the enjoyment of a replay.
Above is an example from a replay from 1912. It tracks each game-by-game performance for Cleveland Naps lefty Vean Gregg.
You can see, at a glance, that after losing Cleveland's opener to the White Sox on April 11, Gregg reeled off seven wins in a row, followed by four straight losses.  The chart also documents all the other stats for Gregg, but for purposes of simply identifying a winning or losing streak, this chart visually projects what is going one with the individual pitcher.
Next: The mystery of tracking hitting streaks