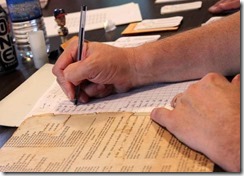 I have exciting news!  Rod Caborn (who has plenty of experience with APBA replays) has offered to write a series of articles on the topic of how to get the most out of your APBA replay! 
Here is his first installment.  – Tom
What's your reason for wanting to undertake a time-consuming, patience-testing, administratively challenging replay?
Are you simply looking to play APBA baseball games and experience an exciting pennant race? Play a "What if" replay that matches teams from different seasons. Maybe integrate teams from pre-1947 and see what kind of a difference the Negro League players might have made. Learn in-depth about the players from a certain season or era.
Do you want to create entirely new teams and rosters (e.g. an off-season Winter League with six teams)? Find out what would have happened if certain trades had been made (e.g. Ted Williams for Joe DiMaggio, rumored to have been discussed after WWII)?
Do you want to conduct a full-season replay? An abbreviated season that takes less time?
When it comes to defining the reasons APBA fans undertake replays, no two answers are ever quite the same. And no two replays are exactly alike. Nor do they have to be alike.
Replays can take any form you want. There is no one way to do a replay and no one way is correct.  Keep in mind, the only person you have to please is yourself.
Replays are meant to be fun. Whatever kind of replay you undertake, do it your way. And do it for the sole purpose of adding to your enjoyment of baseball.
Next: What's required to undertake a replay?