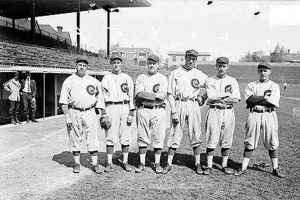 This is the reason I purchased the 1915 season. In the real world, this was the closest pennant race in baseball history with three teams finishing within a half game and the fourth-place team 5 games out.
I did this season in windows with myself mainly managing the Cubs, and hopping from team to team based on matchups, and eventually settling on the Whales to try and save their season.
Unfortunately replay history was not so kind as this turned out to be a pretty much done deal by the end of July for St. Louis.
Final Federal League Standings
St. Louis Terriers 92 48 .657
Pittsburgh Rebels 80 60 .571
Chicago Whales 76 64 .543
Brooklyn Tip Tops 76 64 .543
Buffalo Blues 73 67 .521
Kansas City Packers 67 73 .479
Newark Peppers 61 80 .433
Baltimore Terrapins 36 104 .257
League MVP
Benny Kauff, Brooklyn Tip Tops .389 21 HR 117 RBI
League POY
George McConnell, Chicago Whales 21-7 1.92 ERA
St. Louis Terriers (92-48)
The Terriers got off to a strong start and were never really challenged for the pennant. This was a uniquely consistent team that while it had solid pitching, none of their pitchers were among the leaders in almost any category, and usually in the 9th or 10th spot. They did however have excellent batting eye and a sprinkling of power and speed. Jimmy Walsh (.289 14 HR 80 RBI) was the team leader and got a couple of MVP votes. Ernie Johnson (.270), Ward Miller (.308 40 SB), Johnny Tobin (.299 27 SB) and Bobby Vaughn (.287 24 SB) were the mainstays in the lineup.
The biggest strength was their very talented bench. Led by Charlie Deal (.411), Harry Chapman (.301), William Borton (.333), Hugh Miller (.360), and Art Kores (.429) made pitchers pay when they came into the game.
The starters as I said before were solid if not great all year long, and their top three in the rotation really held hitters down. Eddie Plank (20-11 2.23), Dave Davenport (21-8 2.14) and number three starter James Crandall 19-1 2.45 was better than the team ace Plank.
Pittsburgh Rebels (80-60)
The Rebels benefited from other teams not playing to their potential. It's not that they are a bad team, but with a good, but not great lineup or pitching staff they had no business being in second place.
Ed Konetchy (.330 3 HR 111 RBI) did his best Tommy Herr imitation. Steve Yerkes hit .297 and Mike Mowery was their second-best player, hitting .306 and led the team with 30 steals. Ennie Oakes (.277) and All Wickland (.293) chipped in frequently. Frank Allen was their only solid hurler, going 21-8 with a wonderful 2.09 ERA. However, it was Elmer Knetzer who had the highlight of the year with a no hitter in June.
Chicago Whales (76-84)
For the first time in my APBA career I am going to take a little credit for my managing skills. As late as July 31st, the Whales were in dead last with the third worst record in all three leagues. Then the magic happened. I started tweaking the lineups, juggling rotations and working situations more than at any point in my life.
Talk about results! Les Mann moved up in the lineup and went 4-4 and the Whales went on a 7-game win streak. After a couple of more losses they won 28 of their final 35 games and rocketed up the standings.
Bill Fischer won the batting title with a .398 average. Max Flack led the league with 52 steals. He hit .325 with 7 homers to prove he didn't steal first. Less Mann hit .305 and Ed Zwilling hit .301 with a team high 17 homers and 94 RBI. Art Wilson hit .345 in a pinch hit/late inning defensive sub role.
George McConnell went 21-7 with a 1.92 ERA and won the Pitcher of the Year award. Claude Hendrix went 16-10 with a 3.36 ERA and was no slouch at the plate, hitting .313 with a homer and a .475 slugging percentage.
Brooklyn Tip Tops (76-64)
The Tip Tops got off to a strong start, but faded after the mid-season point primarily due to a streak of very average play. They had some solid players, led by MVP Benny Kauff (.389 21 HR 117 RBI 25 SB). He had some solid support with Ralph Myers (.306 25 SB), Lee Magee (.330), Al Halt (.286) and Claude Cooper (.302). This team did have a serious lack of power after Kauff, and for a deadball era team not much speed after Myers and Kauff.
The pitching was decent, but not great. Dan Marion won (18-10 3.35) was the team's top hurler, and Bill Upham 4-2 8 SV 2.31) was solid from the bullpen.
Buffalo Blues (73-67)
The Blues were a bit of a mystery to me. They finished with a winning record, but were never really a good team. That's not to say they didn't have some players, but they finished better than I expected. "Prince" Hal Chase suffered from what I call "Sam Crawford Syndrome" (see my 1901 NL recap for a better understanding). Hal had a great year and finished second in the MVP voting, but suffered from a severe lack of help in front of him. He hit .338 with 16 homers and drove in only 83 runners because the batters in front of him were Mario Mendoza clones. There were some other players that had good years. Art Watson hit .380 after moving into the lineup in the second half. William Louden (.291 42 SB) and Jack Dalton (.283) were everyday contributors also.
The pitching was pretty weak though, but Al Schulz (15-12 2.42) led the staff and despite a lack of run support Fred Anderson (13-16 2.45) had a good year.
Kansas City Packers (67-73)
Kansas City was a big disappointment in this replay. Finishing almost 20 games worse than their actual finish. The electronic dice just didn't like them. They had decent hitting, led by Bill Kenworthy (.353 21 SB), and a decent supporting cast of Ted Easterly (.282), Johnny Rawlings (.286), and Grover Gilmore (.272).
Pitching is where it all fell apart. The starters were good, but not great although Nick Cullop (13-9 2.82) stood out, but once you got past the starter the game was over. The starting four's ERA was 2.99 and the rest of the staffs was 7.00.
Newark Peppers (61-80)
The Peppers were an all or nothing team that seemed to adopt Dusty Baker's motto "my starters are my starters" as the 8 regulars were just that almost all of them every day. On the days their pitching and hitting worked well they won. When one or the other didn't show up they lost, and usually by a big margin. The hitting overall was stronger than their pitching though.
Edd Roush (.299 37 SB) was the star hitter on this team, Al Scheer (.294) and Vin Campbell (.327) were excellent hitters and pretty clutch ones at that. Bill McKechnie (.282) had a good year and Hugh Bradley (.290) and Ted Reed (.277) impressed while playing just half a season.
The pitching was not great but had it's moments. Big Ed Reulbach (20-11 2.27) was the heart of the pitching staff and hurled a no hitter vs Baltimore on June 6th. Earl Moseley (15-15 2.76) was no slouch either.
Baltimore Terrapins (36-104)
Well this is one of the worst teams I have managed. If the Terrapins were a single player combined they would be a zero-tool team. Almost no speed, virtually no contact hitting, very limited power and no defense.
The pitching was not much better. The team ERA was almost 7.00 and if it were not for the efforts of Dave Black (2-4 1 SV 1.67) and George LeClair (1-1 1 SV 1.57) the team ERA would be near 8.00. Also, to tell you how bad this team was, if you look at all of my previous reviews this is the first time I have had a team so bad that the pitching update is listed first.
However, it has been proven that even on a terrible team that at least one good player seems to exist. Baltimore's lone good hitter was Steve Evans who led the team in almost every offensive category with a (.294 6 HR 73 RBI) line. The only category he did not lead in was stolen bases. That was Enos Kirkpatrick, who had 28, but managed a paltry .176 average despite playing 130 games!