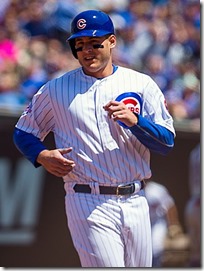 Busch Stadium
St. Louis, MO
May 6, 2015
The Cubs are looking to rebound from last night's shutdown performance by redbird hurler Nick Martinez. Tonight's game sees Jon Lester match up against
Michael Wacha, who has struggled pretty badly so far.
Wacha looks like it will be a quick start as he gets the first two hitters quickly but Anthony Rizzo, who is finally beginning to come around after a bit of a slump draws a walk and moved to second on Kris Bryant's single up the middle. Miguel Montero gets a fastball on the upper half, and while he can't turn on it this one rattles around in the left field corner for a two run double.
Austin Jackson, who is mired in a big slump hits a floater into right field for a single that scores another run. Chris Coghlan pops up to end the inning, but not until the Cubs are up 3-0 heading into the bottom of the first inning.
Lester, who has been solid all year gets the first three with ease, and nothing has changed as we enter the bottom of the third inning when Brandon Moss hits a single into left to start things off. Wacha lays down a sacrifice bunt to move the runner into scoring position. Jason Heyward, who is hitting more like his 2016 version right now hits a liner into right that scores Moss with no throw for the first run of the evening, but he was erased in a 6-4-3 double play to end the rally with the Cubs leading 3-1 as we are now 1/3rd of the way through this one.
Although both teams had scattered some hits here and there not much happened until the sixth inning when Jackson gets his second hit of the night and moved to second on a double by Coghlan. Addison Russell, who almost has to buy a hit at this point slips one into center field to score two more as the St. Louis bullpen begins to warm up, but he strikes out Lester and retires the side with no further damage, but the Cubs have taken control with a 5-1 lead.
The home team responds in the bottom half however, as Heyward drills a double into center field and trots home one out later on towering homer by Chris Carpenter to left field. Chris Bosio comes out for a quick chat and it appears to work as Lester gets two quick outs and the inning ends with the Cubs on top 5-3.
Kris Bryant gets a belt high fastball with one out and the lead is now 6-3, and while Wacha struggles but still gets out of the inning, but as he is due to bat this inning expect a pinch hitter.
And that wrapped up the game as both bullpens were solid with no runs are allowed and the final score was 6-3 Chicago over St. Louis.
Lester picked up the win and goes to 5-1. Justin Grimm was solid in his one inning and Hector Rondon only allowed one hit, a leadoff double by Jhonny Peralta in the ninth and got a much needed save. His ERA dropped under 8.00 for the first time all year.
Michael Wacha struggles again and is now 2-4 for the year and has a 5.20 ERA. Marcus Hatley tossed 2 strong innings of relief despite being a D.
Around the horn
A.J. Burnett of the Pirates throws a 3 hit gem as the Pirates beat the Reds 7-3.
Khris Davis of the Brewers has been on a monster tear over the last week or so. He has jumped from a .245 average to .336 and now has 9 homers and 22 RBI on the year.
"Instant Offense" Jose Altuve continues to dominate with a .364 batting average, and despite only having 1 homer (he seems to hit the 11-6 instead) has a .922 OPS. Teammate Carlos Correa is equally frightening at .359 with 14 homers and a 1.183 OPS to go with a .806 slugging percentage. They are the best 1-2 combo I have had in as long as I can remember.