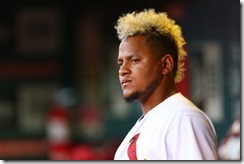 Busch Stadium
St. Louis, MO
May 5, 2015
The Cubs face the Cardinals in game two of their series with the Redbirds. Tonight's game features Jake Arrieta (5-1) against Carlos Martinez (4-2). Both pitchers are strikeout hurlers so runs may be at a premium this evening.
Dexter Fowler continues his hot streak with a leadoff single to center. Dex steals second easily on reserve catcher Cody Stanley and is still on second with one out. Fowler sees something in Martinez's delivery and he's off for third on a 2-2 count. The throw is high and sails over Shane Reynolds' leaping stab and rolls into left field! Fowler scores and the Cubs take a 1-0 lead.
Anthony Rizzo rips a double to right but is stranded and the inning ends soon afterwards with Chicago getting just the one run.
The home team comes storming right back in the bottom half of the inning, as Kolten Wong blasts a flat slider that comes in belt high and this one is a no doubter to left field and the Cardinals have tied this game. Jake settles down and quickly ends the inning, but this game is tied at 1-1 after one.
Both pitchers are pitching extremely well tonight, and there was little action until the Cardinals come through in the bottom of the 4th inning. Stephen Piscotty hits one into the right field corner for a lead off triple. Jhonny Peralta hits a fly ball to deep center field that Fowler catches near the wall that scores Piscotty for the lead run. Arrieta gets the next two hitters and the inning is over, but not before the Cardinals take a 2-1 lead.
And that ended the scoring for this one as both pitchers were very dominant. Jake Arrieta gets the tough luck loss while allowing just 2 runs on three hits. He walked 3 and struck out 6 in 7 innings.
The big story tonight was Carlos Martinez. He goes the distance, allowing one run on 3 hits while striking out 13, including a streak of 6 in a row in the later portion of the game.
Around the horn
Cleveland starter Danny Salazar strikes out 11 batters in a complete game loss to the Royals 4-3.
Scott Kazmir of the Astros shuts out the Rangers and a grueling 1-0 victory.
Cameron Maybin of the Braves goes 5 for 5 with 3 RBI and a stolen base as the Braves beat the Phillies 7-1.