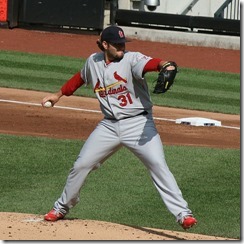 Busch Stadium
St. Louis, MO
May 7, 2015
Tonight's game features Kyle Hendricks vs Lance Lynn. Kyle has had a decent, but not spectacular season so far, while Lance has easily been the best redbird starter so far. I'm expecting this to be an interesting game so let's get underway.
Lynn struggles with his control on this somewhat damp and chilly evening and walks a couple of batters, but manages to keep Chicago off the scoreboard in the first inning.
Unfortunately for Kyle he was in the strike zone far too much in the bottom of the inning and the Cardinals jumped on him quickly. Back to back singles by Jason Heyward and Kolten Wong put runners on the corners and Wong was off with the pitch to Chris Carpenter, who has been hitting Chicago pitching pretty solidly this series and he bangs a double off the wall in right field and two runs score.
Stephen Piscotty slaps an opposite field single and the lead is extended to 3. Jhonny Peralta and Shane Reynolds get a single and a walk, but Hendricks recovered enough to get out of the inning with three runs.
Oddly enough while both pitchers struggled throughout the game neither was tagged for another run as both teams stranded a lot of runners, but for the Cubs they only got two hits, doubles by Chris Coghlan and Austin Jackson who have both been struggling mightily of late.
Unfortunately Lynn goes to 5-1 on the young season with a 1.84 ERA while Hendricks drops to 2-3 with an ERA over 5.00. The one bright spot for the Cubs this game was the deut of Zac Rosscup. The bullpen has not been superb so far and while he did allow 3 hits and a walk in two innings he did not allow a run and struck out he side in the eighth inning.
Around the horn:
Pitching has been king over the last few games. Chris Young of the Royals throws a 1 hit shutout over the Indians and KC wins a nail biter 1-0
Anibal Sanchez starts with 4 and 1/3rd innings of no hit baseball and for the second time this year ties the all time record for a D starter. Detroit beats the White Sox 3-2.
Dallas Kuchel throws his second 2 hit shutout of the year and is reminding me of Jesse Tannehill of the Pirates run as the "King of the 1-hitter" in my 1901-03 replays.
And despite another pitchers duel in Tampa Prince fielder hits a game winning solo homer in the top of the 9th inning and the Rangers squeeze out a 1-0 victory over the Rays.